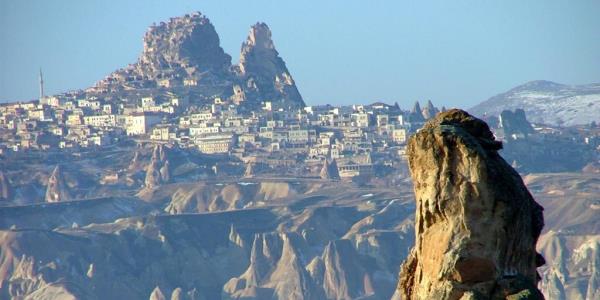 Uchisar Turkey is a small mountain village in the historical region of Cappadocia in the Central Anatolia Region. This is an ancient and historic region not too distant from Urgup and Goreme.
There are two options for international airports serving Urgup: Kapadokya International Airport, Nevsehir (KAP) 7km and just 10 minutes' drive or Erkilet International Airport (ERK) 61km which is a 45 minute drive. Bus or taxi ground transportation is also available.
The climate in Uchisar between May and September has an average high of 25⁰C and a low of 10⁰C so really sunny and warm.  Between October to April average highs are 25⁰C, average lows drop to 10⁰C. The fall and spring will see this change to average highs of 15⁰C while average lows drop to 6⁰C.  Be warned though night-time and winter temperatures can drop to -7⁰C due to the mountain height above sea level. Travelling here in the winter requires warm clothing.
Things To Do
The rock fortress of Uchisar is pronounced (ooch-hee-sahr) and the name means "tiptop castle" in Turkish. Located in the area of Cappadocia, Turkey, it rises above the surrounding hills as a natural monument created by nature, carved into a city by man. It can be observed for many miles in every direction.
While Turkey, with its numerous underground dwellings carved into the soft volcanic rock hillside is interesting, Uchisar with the homes and storage barns carved in to the above ground mountain is visually fascinating and photogenic. The cave dwellings have been used as homes, churches, monasteries, barns and pigeon lofts for the collection of pigeon droppings for use as fertilizer in the local vineyards.
Where to stay when visiting Uchisar? There are modern hotels and resorts, guest houses and B&B's but why stay in a hotel room when you can rent a 2000 year old cave or a recently carved one. A number of the hotel chains manage the luxuriously restored cave rooms. This is what you came here to see, you should experience the pleasure of sleeping in a cave as well, there is nothing quite like it.
Restaurants of every variety are available to meet every dietary and budget criteria. When in Turkey you must try the local Turkish food.
Bistro's and restaurants provide background music by many live groups or DJ's.  Worth going out to as it adds to your experience of the area.
Our Top Tips:
• Tours of the rock will take you underground into the homes, churches, graves and monasteries of the past. Tunnels travelling long distances have been discovered. A climb to the top provides a stunning panorama view.
• Hiking in the area is a popular way of taking a self-guided tour. There are many valleys within 5km of Uchisar to be explored all with their own unique bit of history to be seen and discovered.
• Pigeon valley hike lies between Uchisar and Goreme, this is a two hour hike. The white paint on these caves has been used to attract the pigeons which are valued in the area for the fertilizer made from their droppings.
• Hot air ballooning over the incredible landscape is a favorite way of getting a bird's eye view of this very different region. The Balloon ride company will pick you up at your hotel.
• If you want to see the incredible countryside views of the area without hiking the hills is best seen from a jeep safari tour.
• When in Turkey a must-do, for the not too timid, is the Turkish bath known as the Hammam. You can find a few spars offer this service in a group at cave and tunnel locations to add to the local experience.
• To the west, east and north can be seen what is known as "Fairy Chimneys". These are hollowed out tombs dating back to Roman times.
Hikers, bikers and jeep tour junkies all come back to the region on a regular basis for the numerous trails to follow into the past.
(This page was viewed 192 times today and shared 1 times)