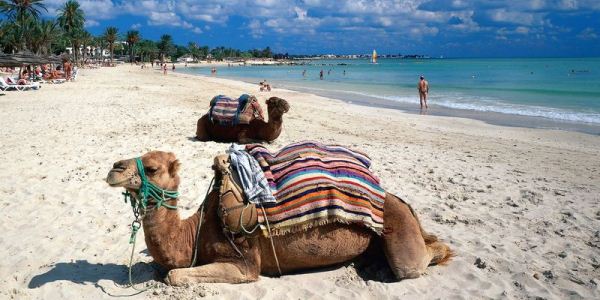 Located off the coast of Tunisia, Djerba is the largest island of North Africa, with a population of 158,941. Its largest city is Houmt Souk which literally means 'the market neighbourhood'.
Djerba is perhaps most famous for its appearance in the first movie of the Star Wars franchise as Mos Eisley but it is also host to hundreds of fantastic local and authentic attractions.
Things to do
Krokodilfarm Animalia in the North-eastern town of Midoun is a great day-out for families and an interesting break from the beach, bar, or restaurant. At this reasonably sized crocodile park you will be able to see the crocodiles being fed, watered, and even have the chance to handle one of the little ones.
There is a selection of cafés and bars around the park for you to enjoy as part of the visit. It is recommended that you agree a fare with a taxi driver in advance before leaving your hotel.
Many regular visitors to the island will insist that a trip to Quad Evasion et Passion is the best 60 dinar you are likely to spend. This company provides quad bikes and guides taking you across the length of the coast of Djerba for two hours. If you don't fancy the quad bikes you can go on a camel ride to hidden oases.
For a weird and wonderful Tunisian experience visit Guellala Museum atop the highest 'mountain' (50m above sea level) on Djerba. A museum comprised of statues depicting the everyday lives and habits of Tunisia's people Guellala Museum will give you an opportunity to understand and appreciate the daily life, customs and traditional garb of the Tunisians.
There's also a friendly camel. Give yourself at least an hour to enjoy this surprising attraction. If you visit the island of Djerba don't miss the appropriately named 'Djerbahood'.
This little village has become famous for its surprising, challenging, and above all beautiful graffiti and street art. With friendly locals and a laidback atmosphere you'll be free to enjoy the truly world-class artwork at your own pace.
There are surrealist pieces which depict the hands of graffiti artists as camel-humps, a pair of blue eyes staring provocatively out from the whitewashed side streets, an old motorcycle suspended between cacti. Whatever you do, don't miss an opportunity to visit Djerbahood.
The Blue Dolphin Dive Club on Djerba is the ideal adventure trip for families, couples or solo travellers. Founded and run by two friendly divers, Mongi and Anne-Francoise, you can experience all the beauty of the Mediterranean: rays, shipwrecks, starfish, turtles and much more.
Mongi and Anne-Francoise can even provide diver training up to certificate level 3. They also offer boat trips and snorkelling trips for those wanting a fun day out but slightly less keen to dive down into the deep blue. Prices for fun dives begin at around 50 dinar (current rates).
Our Top Tips
• Visit the Traditional Heritage Museum and see a thorough history of Djerba and its fine culture.
• For Krokodil Farm Animalia you should prepare to set your eyes on hundreds of crocodiles; an incredible experience, be careful.
• The Blue Dolphin Dive Centre is a must-see attraction. No matter which part of the beach you find yourself on you can enjoy a wonderful dive with the dolphins.
• El Ghriba Synagogue is the most ancient Jewish establishment in the country.
• Saint Joseph Cathedral is another religious site and is actually the oldest of its kind in the Maltese community.
(This page was viewed 291 times today and shared 1 times)