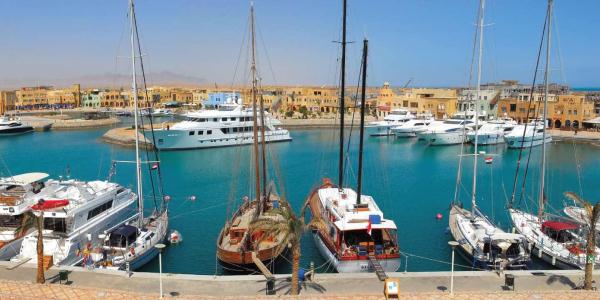 Known simply as 'The Lagoon' in Egypt, El Gouna is a tourist resort dating from around 1990 which specialises in watersports such as scuba diving, windsurfing, kitesurfing, water-skiing, parasailing, and snorkelling.
As part of the Red Sea Riviera the climate in El Gouna is temperate all year round with highs of 34 C in August. Aside from watersports El Gouna also has bars, restaurants and an 18-hole golf course known for its good service and friendly staff.
Things to do
El Gouna Cable Park Sliders is the ideal entertainment for watersports enthusiasts. Providing wake-boarding and water-skiing instruction without any boats (that's right nature lovers: no pollution), El Gouna works with a system of cables upon which the person rides, hence the name.
You could spend half a day here or a whole week depending on how much you want to improve on your skills. The instructors are known for being friendly and multilingual thus able to train and communicate with people from all over the world.
If you're looking for a relaxed experience whilst staying in El Gouna take a stroll down to Abu Tig Marina. A short distance from the golf course Abu Tig Marina is the perfect place for you and your loved ones to unwind in any number of the bars, restaurants or shops that circuit the marina.
The marina itself is full of luxurious European yachts which are beautiful to look at whilst you enjoy a well-earned cocktail.
Everyone who visits El Gouna makes a trip to Peanuts Bar. Located in the north of El Gouna Peanuts Bar is a perfect place to hang out. If you're looking for a quiet drink you can enjoy one in the day but if you're looking for a wild night out then Peanuts Bar comes alive after sundown. There are themed nights weekly, and a cocktail menu to rival just about anywhere.
People keep going back to Colona Divers in El Gouna. Based at The Three Corners Rihana Resort Colona Divers are renowned for their warmth and professionalism. Whether you want to dive with them for an afternoon or for several days, whether it's your first time dive or you're hoping to gain a full license the team at Colona Divers will be able to take care of you. The rates are reasonable and all the equipment is up to date.
The Bartender Bar off Abu Tig Marina is probably the wackiest place you're likely to visit on the Red Sea Riviera. Packed full of retro odds and ends with sentimental value to the owner, the bar is known for hosting great entertainment with great music, pool tables and an inventive (if a little pricey) drinks menu.
If you can afford it this place is worth it for the quality of the drinks, the atmosphere and the location.
Our Top Tips
• Abu Tig Marina is very beautiful, lovely in the morning and at night. A lot of restaurants in a nice atmosphere.
• Cable Park Sliders Water – skiing and wakeboarding without boats so no pollution all these on a cable system.
• Zeytuna Beach is a lovely and beautiful place where you can relax and swim in the warm water of the Red Sea.
• Downtown Bazaar – The place to visit for shopping, eating and just wandering around. WIthin walking distance of most hotels.
• Scuba, snorkeling, kite surf or windsurf pick one and enjoy.
(This page was viewed 134 times today and shared 1 times)