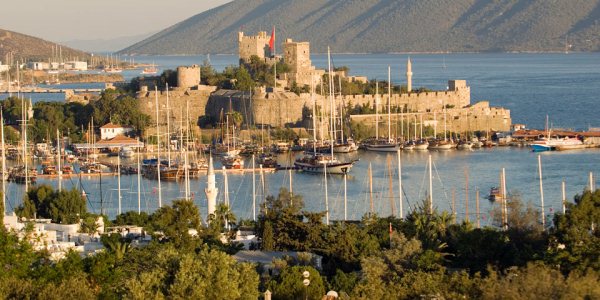 With its many beaches Turgutreis, located on the Aegean Sea coast of Turkey in the Mugla district, is a natural magnet for tourists. It is the second largest town on the Bodrum peninsula and has about 5km of sandy beaches waiting for you.
Milas-Bodrum International Airport is the closest flight destination when visiting Turgutreis. Milas-Bodrum International Airport is only a 60 minute road trip along good roads. It has ample airport transfers services available to help you reach your holiday resort or hotel in relaxed comfort. Transfer reservation can be made on line if they are not part of your vacation package.
The climate in Turgutreis can be described as Mediterranean with hot summers and little rain coupled with mild winters. Flowers and Olive trees flourish all round you.
Things to do
The town of Turgutreis has many modern hotels and upscale resorts together with well-maintained older hotels to suit every budget. B&B's are available as are private vacation rental homes. Ample shopping is available to meet your requirements.
There are plenty of restaurants over the road from the beach to suit all tastes and enough bars along the promenade to provide you with a choice of a relaxing afternoon drink or an all-night party. A number of discothèques, smaller bars, and clubs, some with live music exist for the evening crowd.
Turgutreis is the commercial center for the large agriculture area that surrounds it. The fertile valley is filled with market garden Produce. There is a Sunday market that should not be missed as it is an opportunity to be part of the local way of life. You will get a great feeling in the market experiencing the blend of both east and west cultures.
Trail horse riding is available in Turgutreis with rides suitable for all age groups. It is advisable to book in advance if you have specific riding needs.
Turkey is a Muslim country that respects other beliefs and as such we must respect theirs. The call to prayer from the minaret can be head during the day and although initially some westerners may find it distracting it isn't too long where it becomes a pleasant background call.
The miles of golden beaches, the availability of the many water sports both above and below the safe clear blue waters of the Aegean Sea coupled with the historic ruins dating back to the Bronze age, make this the destination of choice for sun seeking holiday makers who are prepared to put a little effort into getting there.
As a major player in the tourism industry Turgutreis has a history of only a few years but its history as a town goes back 500 years. It hosts the story of the Ottoman Admiral Turgut Reis who was born here. As an Ottoman Empire Admiral his actions have ensured that his birth place gets a note in history.
Earlier history going back 3000 years dots the hills and seaports in this area. Guided day trips will lead you into rock-cut tombs on the Turgutreis hills.
Our Top Tips
• If you'd like to go further afield, take a ferry to Greek Islands.
• Yassıada, an island just 4 miles away from Turgutreis is well known for 16 shipwrecks dating from between the 4th-16th centuries, and is a well-known diving spot.
• Take a walk to the village of Manara Windmills which was built around the 15th Century, and is on a hill overlooking the town, full of tangerine groves, Bougainvillea and steep roads.
• Go sightseeing. The area around Turgutreis is bordered with steep mountains running parallel to the coastline.
• Go on a boat trip. Turgutreis has a large selection of daily boat trips to offer.
(This page was viewed 135 times today and shared 1 times)