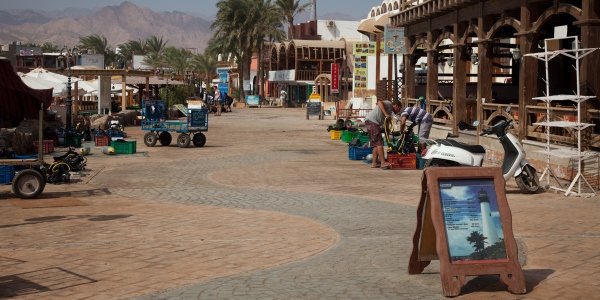 Dahab was for centuries a small Bedouin fishing village located 80km north of the Sinai Peninsula main tourist attraction Sharm el-Sheikh. It is now the most sort after diving location on the southeast coast of the peninsula.
Diving in the clear waters of the Gulf of Arabia upstream from the populated areas of Sharm el-Sheikh ensures that you are diving in unpolluted water with vivid coral and fish life.
The nearest international Airport is the Sharm el-Sheikh International Airport is located 94km south of Dahab. There is a good bus and taxi service that will get you quickly to your hotel or resort. Some hotels operate a shuttle to meet the flights.
With its location you can expect the subtropical arid climate with very little rain. Summer is considered to be May to October with average temperature highs of 32⁰C and lows of 24⁰C, August is the hottest month. The winter lows can drop to a mere 17⁰C.
Things To Do
Dahab is not for everyone. It is a soft peddle holiday destination that appeals to the independent traveller. Once there they have the pick of the uncrowded golden beaches either side of the village.
The original Bedouin fishing village is still there just beneath the surface. Prosperity has come with an increased number of tourists. They come to see and enjoy spectacular snorkeling and desert adventures. Restaurant toilet facilities are not always up to European standards; this is a destination for the hardened traveller.
The area has family friendly hotels offering affordable accommodations. It is no longer a hippy resort but the relaxed atmosphere suggest that it was not far in its past. New hotels have grown to meet the slow increase in tourist numbers.
Eating out in Dahab is not a problem; the problem is where to eat. Tourism has encouraged many establishments that have a kitchen to serve food to the public. This has produced a variety of menus based on the nationality of the host or the dominant clientele. Most prices are competitive and it's worth noting that fresh meat has to travel a long way but fish comes straight out of the Gulf.
There are clubs and hotel lounges that play music together with allowing the drinking of alcohol and dancing. Bars that serve coffee, tea and alcohol are a big part of the nightlife social entertainment. This is an area of low key evenings out with club opening hours being a suggestion only.  Ask at you hotel or from longer resident guests.
Our Top Tips:
• Dive in the stunning waters of the Gulf of Arabia
• Snorkel the rocks and coral just off shore from a tour boat with a guide that will explain what it is you are seeing.
• Windsurf off the beach at any time of the year
• To gain an experience that is truly Arabian try one of the many Bedouin themed cafés, a little magical atmosphere is created by having you sit on carpets and pillows to drink coffee and Egyptian apple tea.
Locals in the room may be using a traditional Egyptian water pipe with tobacco this will add to the atmosphere.
• A full day escorted camel ride into the desert.
• A jeep safari organized by the Bedouin. Drive your own jeep in a follow the leader style with pre-selected rest and sightseeing stops. You will never forget this experience.
• Do nothing – this is an incredible option in the luxury of your hotel with its pool, restaurants and attentive staff. You are there in the unhurried destination relax and enjoy.
In getting to Dahab you reached deep inside yourself to find the adventurer. It is this feeling of achievement that brings visitors back to the area for a second and third visit.
(This page was viewed 204 times today and shared 1 times)