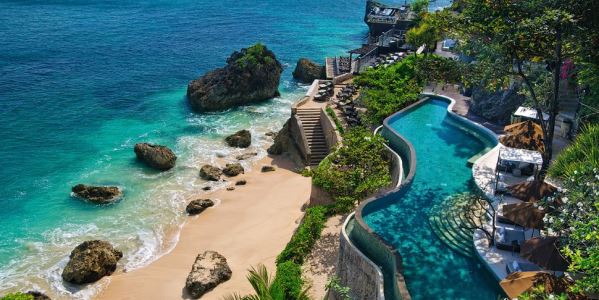 Rogers and Hammerstein got it right when they wrote, "Bali Hai is calling". The multi-cultural city of Denpasar is the capital of Bali and recognized internationally as the doorway to Bali. It is located north of Kuta in the south of Bali and is an inland city with no beach of its own.
The Nearest international airport to Denpasar is Ngurah Rai International 13km away to the south near Kuta. The airport is coded DPS for the capital but is actually closer to Kuta. A local taxi is the best way to reach your hotel if ground transportation is not part of your holiday package.
The climate in the Denpasar has a yearly average summer daytime high of 30⁰C with an average low 25⁰C all year; the wettest months are November to March. It is recommended that a room with air-conditioning is requested for people not used to sleeping in humid conditions.
Things To Do
Denpasar is the working seat of government and the original Bali market town. Denpasar is from the combination of Balinese words "den", north, and "pasar", market, so meaning market town in the north. It is a well-defined tourist destination with its friendly people and its palaces, temples and museums to explore.
An ample supply of hotels are available to suit every budget and taste, from the hotel/spar luxury resorts to business class and small hotels aimed at local traffic.
To get to Denpasar you will have arrived by rental car or taxi from the airport. Getting around within the city is best accomplished on foot. Motorbikes and cars can be rented for travel outside of the city.
There are a wide variety of restaurants within easy walking distance in the city and the area has fine dining restaurants and seemly unending choices of eating alternatives. Whether you want quick food in a relaxed atmosphere or you are ready for an evening out this is Bali; they recognize that food is a major part of your holiday pleasure, be prepared to pay accordingly though. Food is available to meet every dietary and budget criteria.
Our Top Tips:
• During the year many festivals portraying the different cultures that comprise "Bali" come to Denpasar, these provide a fascinating insight to the Bali history and traditions. But they are not continuously performed.
The Denpasar tourism office should be contacted prior to making reservations to determine what cultural events are likely to be held in the city during your stay.
• Spars are everywhere in the city to help you relax at the start of your holiday or just to unwind at the end of a day's walking.
• To the north you have Ubud which is a 45 minute car drive into the fresh mountain air and the luxuriant forests, and traditional history.
• To the south you have the soft sand beaches and glorious Bali ocean sunset of Kuta only 45 minutes away.
• Visit the areas nature parks, individually or part of a tour group.
Denpasar is a city destination that is unique in its own way. It is away from the partygoers of the beach yet within an easy drive for a day or evening out. This is the cultural gateway to Bali. Denpasar welcomes you.
"Bali Hai may call you, any night any day". You should follow the calling.
(This page was viewed 179 times today and shared 1 times)