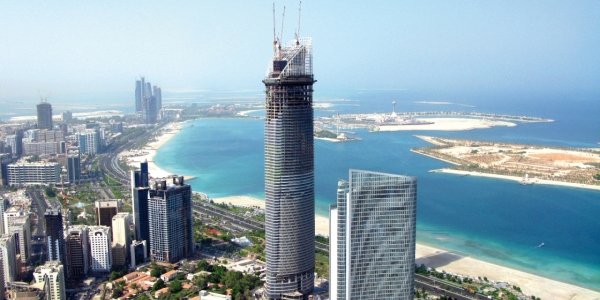 Abu Dhabi is the capital city of the oil-rich United Arab Emirates; it is also one of the richest and most modern cities in the world with a population of approximately 1.5 million people.
Getting to Abu Dhabi is quick and convenient with the city being located only 40 minutes from Abu Dhabi International Airport, and 90 minutes from the larger and more popular Dubai International Airport.
Despite being located in the middle of the desert it offers tourists a large variety of activities, from eating and drinking on the beach and watching the world go by, to driving out into the desert and bouncing over sand dunes.
Things to do
With the temperature in Abu Dhabi being so high during the day, one of the most popular things to do is to simply relax by the hotel pool or the beach. A lot of the upmarket hotels and resorts have their own private beachfront which you can pay for a day's use.
These private beachfronts tend to have a large variety of clean and modern facilities such as showers, bathrooms and loungers which are free to use after entering. Furthermore Abu Dhabi has public beaches that are free to use, however, the facilities may be a lot more basic. In addition, when visiting the public beaches visitors need to be aware that Abu Dhabi is more conservative, therefore a stricter dress code is required on the public beaches.
Abu Dhabi is a shopper's paradise with cheap prices and a large variety of malls to choose from. These malls are aimed at both locals and foreigners and tend to have many familiar high street names. Furthermore, many small and independent shops can be found scattered throughout the city. These are ideal for those looking to buy specific items such as jewellery, art, antiques, and carpets.
When shopping at these stores remember not only to haggle but also to to keep it light and friendly. In addition, you need to take into consideration that import duties may apply when taking the goods home.
For those looking to eat and drink in Abu Dhabi, the shopping malls also host a large variety of food and low-end and high-end restaurants from all over the world, therefore, there is something for everyone.
For those who are a little bit more adventurous and looking for something more than just sitting by the beach, shopping, and eating, try heading into the desert and go on a desert safari. Here you are taken out into the desert on a customised 4×4 and taken on a fun yet scary rollercoaster ride over the desert's striking sand dunes.
At the end, you will be rewarded with beautiful views of the sun setting over the desert and a lavish dinner with local entertainment.
Our Top Tips
• Sheikh Zayed Grand Mosque Center is so beautiful. Being surrounded by pools of water and constructed from white marble, this mosque has a unique tranquility.
• Ferrari World Abu Dhabi it's a must visit not just for Ferrari lovers but for all adventure seekers, Try rollercoaster "Formula Rossa" with 240km/h.
• Saadiyat Public Beach is the best beach in Abu Dhabi for the water quality.
• Emirates Palace, a once in a lifetime experience; a superb and extravagant hotel; there are special hours for public visits.
• Observation Deck at 300 is a nice place to discover Abu Dhabi Island from the top.
(This page was viewed 171 times today and shared 1 times)