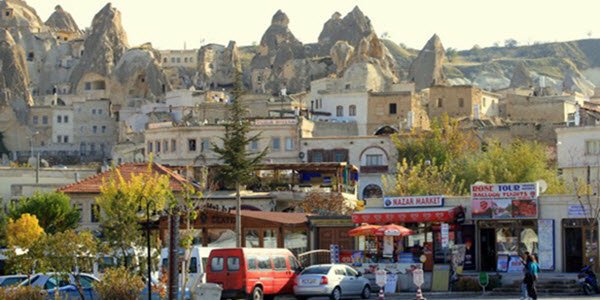 Almost a sister/brother town to Urgup and Uchisar, it is Goreme's underground villages and caves, cities, homes, tombs and palaces cut into the mountain side that bring visitors to this area. Gereme is a small inland town in the middle of the area known as the "fairy chimneys". This is an ancient and historic region in the Nevsehir Province area of Central Anatolia Turkey.
There are two options for international airports serving Goreme: Kapadokya International Airport, Nevsehir (KAP) 42.8km about a 40 minute drive or Erkilet International Airport (ERK) 76.8 km and around 1 hour drive. Bus or taxi ground transportation is also available.
The climate in Goreme between June and September has an average high of 28⁰C and a low of 15⁰C; Sunny and warm. Their winter is October to May with an average high of 15 C (Dec 2 C/Jan 8 C) and average low of 2 C with Dec dropping to – 8 C, Jan & Feb – 2 C. Travelling here in the winter requires warm clothing.
Things To Do
Located among the "Fairy Chimney" rock formations is a hiking paradise. Goreme is classified as a UNESCO World Heritage Site. It has exceptional examples of rock-cut building construction and murals dating back to the time that Paul the Apostle of Jesus first brought Christianity to the region. This is a Muslim country, you will hear the call to prayer, and should respect the people around you who respond.
By the year 300 AD and to about 1200 AD, Goreme had established itself as a centre for individuals seeking time alone. The cave dwellings were Ideal for this monastic life style for a few weeks or even a few years.
Whether you are backpacking or touring in air conditioned luxury, Goreme has accommodation to meet your needs. International quality hotels with spars have been built that will provide a romantic holiday, a family get away or the chance to explore this wonderful Central Anatoila, Cappadocia region of Turkey. For a quieter stay there are Bed & Breakfast establishments who cater to your needs with quality and efficiency and are plentiful
Restaurants of every variety are available to meet every dietary and budget criteria. When in Turkey you must try the local Turkish food. It is deliciously cooked to perfection with a background of 3000 years of culinary history.
Local bars and restaurants play a mixture of Turkish and western style of music on an eclectic collection of instruments. Go and enjoy the background entertainment to a tasty meal.
Our Top Tips:
• A guided tour is recommended. As your guide takes you out of Goreme down a sloping valley you will find cave churches, monasteries and convents to explore. The rock-hewn basic furnishings will amaze you. The murals will force discussion and imagination as to what they depict and what message they convey.
• A self-guided hiking tour is a favorite way for the fit and adventures tourists to see the wonders of this historic region. Make sure that you obtain a detailed map and let the hotel know your general route. People have become lost and have had to spend an un-planned night in the tombs!
• Hot air ballooning over the incredible landscape is a favorite way of getting a bird's eye view of this very different region.
• When in Turkey a must-do, for the not too timid, is the Turkish bath known as the Hammam. Your hotel or tour guide will help you find a Spar that will best suits your needs.
• If you want to see the incredible countryside views of Goreme without hiking the hills it is best seen from a jeep safari tour. For those who have not experienced the freedom and fun of driving your own jeep, playing follow the leader with your local experienced guide or being driven by an 'expert', you need to try this activity.
This can be family fun or a romantic drive through the Turkish villages past caves and incredible scenery. You will see local women dressed in traditional costumes and may even find them cooking the local delicacy "gozlene". This is a pancake made of a kind of flatbread and filled with meat, cheese or just maybe fruit and honey.
Goreme will set your imagination on fire. It is one of those places that people just go back to.
(This page was viewed 255 times today and shared 1 times)