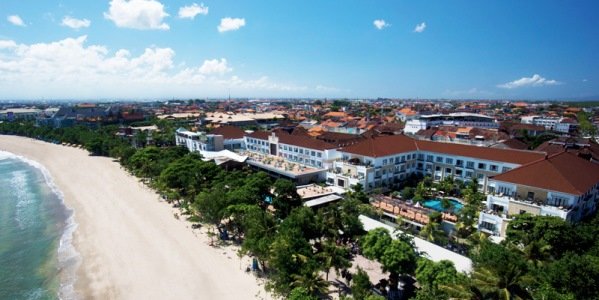 Kuta, in Bali, Indonesia, is located on the southern tip of a peninsular that is on the south side of the island. It has beaches and draws international tourists wanting to experience the beach and sunsets, fine dining and disco's, bars and dinner shows. It is fun, it is busy, it is fast, and it is mainly catered for the younger set or those who can still dance all night.
The nearest international airport is Ngurah Rai International just 6km away to the north of Kuta.  A local taxi is the best way to reach your hotel in Kuta if ground transportation is not part of your holiday package. Travelers on a tight budget should consider staying in Kuta.
The climate in Kuta, like most of Bali, has a yearly average summer high of 30⁰C and an average low 22⁰C. The winter or rainy season is November to June, they tend to be hot and rainy; the humidity makes for sticky living conditions. It is recommended that a room with air-conditioning is requested for people not used to sleeping in humid conditions
Things To Do
Kuta claims five miles of beaches up to and including Seminyak beach located on the southernmost tip of Bali with the beach stretching away to the northwest.
Getting around Kuta is best on foot; the slower pace lets you enjoy the city. But if the sun, beach and nightlife is wearing you down there is a good bus and taxi service.
International and local hotel/resort chains have built in this city, designed for your holiday pleasure and relaxation whether you want a romantic holiday, a family get away, a unique wedding or the chance to explore this wonderful island in the South Pacific, from a base on a stunning beach.
For a quieter stay there are vacation rental houses and many Bed & Breakfast establishments who cater to your needs with quality and efficiency. After the beach it is the nightlife of Kuta that is the main universal attraction.
Restaurants and Bars, nightclubs and disco's, Kuta has it all. Tourists move between establishments in an easy and safe parade. The sun has gone down but then neon and strobe lighting of Kudo get turned on.
Tours are offered to all places on the island which is only 200km from east to west and 80km north to south with good main roads.
Our Top Tips:
• The beach, as always, is a main attraction for the surfing and sunning crowd. The honey coloured soft sand and the warm water make it hard to resist.
• Rental of wave runners and sail boards.
• Wind surfing and kite surfing are popular beach activities.
• Diving and snorkeling trips are available book on the beach, equipment rental is available.
• On land there is jeep driving tours and temple visits.
• White water rafting is becoming an inland popular experience because of its introduction to the heart of the island.
• Day trips by mini bus or boat are available to help you explore further afield. Car and motorbike rental are also options.
Kuta Bali is calling you; don't let the sun set on your dream.
(This page was viewed 150 times today and shared 1 times)