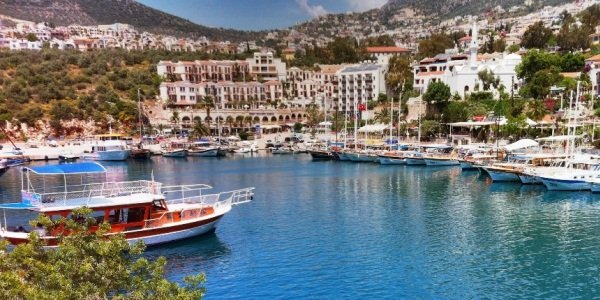 Kalkan is a modest town on Turkey's beautiful Lycian coast and a popular tourist destination with 300 days of sunshine a year.
Traditionally a Greek-inhabited fishing town it is known for its picturesque white-washed houses leading to the sea as well as the abandoned edifices from Greek habitation when the Greek population left during the Greco-Turkish War in 1923.
As well as boasting unspoilt beaches along the coast, Kalkan is in the proximity of several sites of historical interest, such as Tlos and Kekova.
Things to do
With the azure Mediterranean sea right on your doorstep a stay in Kalkan is the perfect opportunity to take a longer boat tour down the coast to the historic Kekova area of the coastline.
These trips on glass-bottom boats are not to be missed: you will enjoy swimming stops, authentic Turkish cuisine on-board and much more. Romantic moonlit cruises and quiet fishing trips can also be arranged, if that is what you're after. Gullets, traditional wooden boats, can also be used if arranged with your tour operator.
Renowned for its closeness to ancient Lycian culture from Kalkan you can take a trip to Xanthos, the former capital of the Lycian Federation, which is believed to have been the first democratic union of peoples in history at the turn of the second millennium BC.
The famous Harpy Tomb and adjacent tombs make for imposing figures on the sun-bleached skyline. You could easily combine a trip to Xanthos from Kalkan with a beach trip or a trip to another set of ruins. The landscape surrounding Xanthos is renowned for its beauty, especially in Spring.
Saklikent Gorge, with Saklikent meaning 'Hidden City', is an easy 30 minute drive from Kalkan. It is the second largest gorge in Europe at 20 km-long. It is a truly remarkable place to visit and is mostly walkable after April when the snows of the Taurus Mountains have melted.
Surprisingly, summer is the best time to visit, with the gorge remaining cool and shady during July and August. The entrance to the gorge is a narrow walkway suspended from the rock. This would make a perfect accompaniment to a trip to Xanthos or another historical site.
If you're looking for another town to visit, then Elmali, which is the largest extant Ottoman town in south-west Turkey, is the ideal spot. Located high in the mountains the views of the Taurus Mountains are simply breathtaking.
It is known for existing in a well-preserved state with some wooden housing surviving from the 17th century when the Ottoman Empire presided over a diverse melting pot of Greeks, Turks, and Armenians. Little has changed in Elmali, with people living much as they always have through ancient crafts such as blacksmithing, hand-crafting copperware and making the ever-popular Turkish Delight.
Alexander the Great is said to have marched through Elmali on his way to fight the Persians. Elmali is a more substantial distance from Kalkan when compared to Xanthos or the Saklikent Gorge and will take around 1 hour 30 minutes by car. However, this somewhat longer trip is certainly worth it.
Our Top Tips
• Xanthos – Lycian Antique City it is an extensive area of ruins with amphitheater, tombs that marks the Lycian civilization where democracy apparently dated back 3000 BC.
• Palm Beach Club offer a free boat ride from Kalkan harbor and it has very good food and sunbeds.
• Take a boat tour to Yildiz, daytime or nighttime trips; both are worthy because of the views but you can also enjoy great food.
• Scuba & Snorkeling in Kalkan is also a must. All boats are spacious and all the kits are well looked after. The boats are equipped with quality equipment and the training that you'll receive will give you confidence to enjoy the dive.
• Take at least one hour to relax in a Hammam center. You will have the works from scrub to oil massage which is truly an incredible experience and one not to be missed.
(This page was viewed 179 times today and shared 1 times)