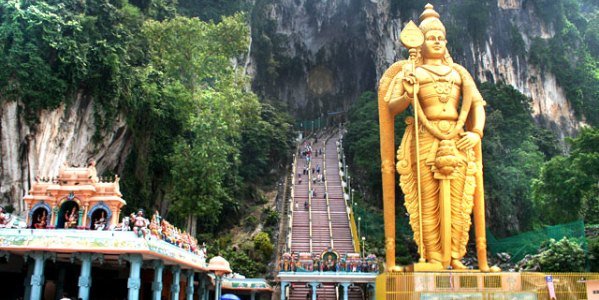 Kuala Lumpur is a mix of rainforests, beaches and watersports. Kuala Lumpur is a territory within the state of Selangor on the central west coast of the Malaysia Peninsular 15 km from the west coast and is a centre for tourism comprising some of the world's oldest tropical rainforests as well as a myriad of sun-kissed beaches and islands, Malaysia is ideal for trekking, snorkelling and scuba diving enthusiasts.
The nearest international airport, Kuala Lumpur International Airport (KLIA), is Malaysia's main international airport and one of the major airports of South East Asia and is located 45 km from Kuala Lumpur city Centre. KLIA is the largest and busiest airport in Malaysia although an alternative is Sultan Abdul Aziz Shah International Airport which is 30 km away. This, though, has limited international connections and is mainly for domestic flights.
The climate is Tropical rainforest, warm and sunny along with plentiful rain. The northeast monsoon season is from October to March with temperatures averaging 32°C and lows around 24°C. And it rains too! Although June and July are relatively dry. As a result flooding is a frequent occurrence whenever there is a heavy downpour.
Things to do
Kuala Lumpur, a modern city of gleaming skyscrapers combined with old tropical rainforests as well as countless soft sandy beaches in the area making it a great staging post for travels in Malaysia, and is known as a world famous trekking, snorkelling and scuba diving destination.
International quality hotels with spars have been built in this area, whether you need a business stop over, a romantic holiday, a family get away or the chance to explore the state of Selangor on the central west coast of the Malaysia Peninsular. For a quieter stay there are Bed & Breakfast establishments who cater to your needs with quality and efficiency.
Night clubs and dinner shows with both an eastern and a western ambience about them are plentiful and provide a safe relaxing evening's entertainment.
Restaurants of every variety are available in the city within easy walking distance of the city area hotels or a short taxi ride away. Food is available to meet every dietary and budget criteria. Fine dining restaurants combined with dinner shows are very popular.
Our Top Tips:
• Helicopter ride over the city
• Balloon rides over the forest
• Show concerts and sporting events
• Batu Caves and Buddhist Temple north of the city, an afternoon is required.
• Hire a guide and take the three-hour tour that provides an introduction to Kuala Lumpur's famous sights, Square and Petronas Twin Towers, National Museum and Thean Hou Temple.
• Elephant Orphanage and Aboriginal Settlement
• Kuala Lumpur Chinatown night market is a must for the experience
The majestic and mystery of Asia can all be experienced in a visit to Kuala Lumpur. Make your reservations now.
(This page was viewed 176 times today and shared 1 times)