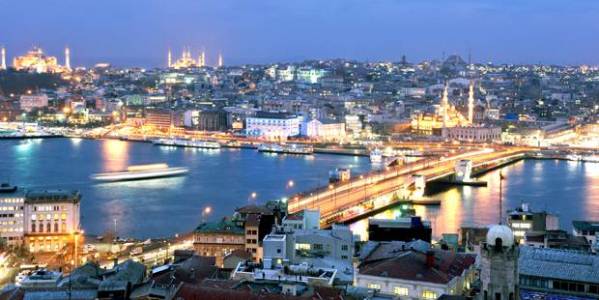 In 1883 the Orient Express Paris to Istanbul stopped here. Agatha Christie wrote about it.
Istanbul is located in north-western Turkey and sits on either side of the Bosporus Strait, a city that spans two continents (Asia and Europe). The Istanbul evening sunsets are a regular light show of gold over the Bosporus Strait. Istanbul's history includes being capital of both the Roman and the Ottoman Empires.
Istanbul's cultural diversity reflects this history making Istanbul a natural destination for tourists seeking a difference in holiday experience.
The nearest International airport is Istanbul Ataturk 24 km (15 mi) west of the city centre. There is also Sabiha Gokcen International 45 km (28 mi) southeast of the city centre. Regular bus and hotel shuttles will get you to your hotel in comfort from either airport. Taxi and car hire are also available.
The climate in Ankara between June and October has an average high of 25°C and a low of 19°C so sunny and warm. The temperatures in November to May drop to an average high of 11°C and a low of 8°C with January to February dipping down 3°C. With 31mm of rain during typically 130 days and with possible snow and fog in the winter go prepared.
Things to do
Istanbul was formally known as both Byzantium and then Constantinople before becoming Istanbul in AD 1453, this is reflected in the local architecture and culture. The cultural mix of Istanbul and its friendly people who have come from all parts of the world have built a cosmopolitan city with history and stature.
International quality hotels with spars and high end stores have been constructed. There has been some history lost as 'old' gave way to 'new' but today the historic buildings are protected by the UNESCO World Heritage list. If the busy hotels and resorts with their polished service and entertainment is not for you then quieter stay can be found in the Bed & Breakfast establishments who will cater to your needs with a unobtrusive quality and efficiency.
Night clubs and dinner shows with both an eastern and a western ambience about them are plentiful and provide a safe relaxing evening's entertainment.
Restaurants of every variety are available in the city within easy walking distance of city area hotels or a short taxi ride away. Food is available to meet every dietary and budget criteria. Fine dining restaurants combined with dinner shows are very popular.
Our Top Tips:
• The Hagia Sophia Mosque and museum, this is a UNESCO World Heritage Site. This Mosque was once a Christian church.
• Visit the Blue Mosque
• Visit the Mosque of Sultan Ahmet 1
• Visit Topkapi Place Museum
• Walking tour – The main sights of Istanbul can be seen from a one day guided walking tour. Take two days, one for yourself to just enjoy the feel of being in Istanbul, a city of childhood stories.
From Istanbul tours can be arranged to visit any part of the country that holds ancient history in its grasp at every bend in the road, and there are many!
• The Grand Bazar is there to be seen If you have not experienced a Middle Eastern market place before go and enjoy. Have small change, be prepared to negotiate on all products with a courteous smile on your face and the knowledge that you are not offending even if you decide to walk away.
• When in Turkey a must-do for the not too timid is the Turkish bath, known as the Hammam. Your hotel or tour guide will help you find a Spa that will best suit your needs.
Istanbul is a delightful mixture of the Old and New. Come and experience it for yourself, the train is waiting.
(This page was viewed 168 times today and shared 1 times)