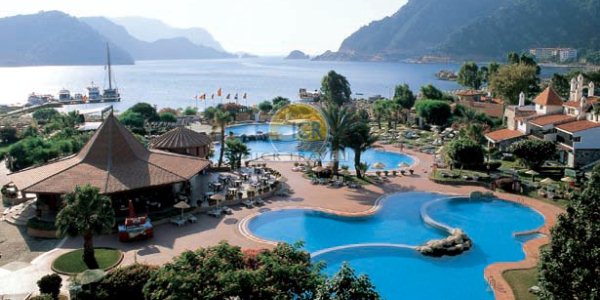 Icmeler is a popular tourist resort an hour away from Dalaman airport, and only 8km from Marmaris. The primary attraction in Icmeler is the sun, beach and the resort with it being considered as  the quiter neighbour of Marmaris. Icmeler sits approx. midway between Marmaris and Turunc.
However, those wanting to do a little more can easily be accommodated by a short bus ride to neighbouring Marmaris which is regarded as more lively and vibrant. If you fancy it you may also walk (about 1 hour) or catch a water taxi there.
You must also check out Turunc which is not too far away (again water taxi or Dolmus) and is also good for shopping although a little quieter.
Things to do
Icmeler has a popular 6km long sandy shingle beach where one can relax, go jet skiing, get on the back of a banana boat, or admire the scenery whilst parasailing. Nearby Marmaris hosts two different beaches with Folk Beach being located in the center of town, and Uzunyali Beach being the more popular beach located next to it.
This long sandy beach stretches over 10km along the Mediterranian coast. The beach on one side sits next to clear turquoise water making it perfect for swimming, and a traffic free promenade lined with bars, shops, cafés and restaurants on the other side.
Every morning an armada of boats leave the harbor from Marmaris taking people on day trips around the clear blue waters to the nearby islands, beaches and caves.
A lot of the cruise companies follow a similar itinerary and often visit Paradise Island, Phosphorus Caves, Fish Bay and Amos Bay. However, check the itinerary before you leave because it often changes.
All the trips come inclusive with lunch and some include soft drinks too. The trips also provide a great opportunity to go snorkeling and explore the nearby underwater wildlife.
You can not visit Turkey without experiencing the delights of the Turkish culture by having a Turkish bath. Many hotels and businesses in the area now offer Turkish baths during the day and the whole process typically last two hours and involves a full body scrub with a foam and oil massage.
At the end, you will feel completely relaxed and rejuvenated.
The nightlife at İçmeler is a lot more low key then then Marmaris. Therefore, for those looking for a little more fun at night, nearby Marmaris hosts a large variety of bars, restaurants and clubs providing great entertainment for everyone.
Having said that there are still plenty of small bars and restaurants providing great food and entertainment without the overcrowding. Oh, and don't forget to visit Café Annes for the best freshly made cheesecake ever!
Marmaris Castle which was first built by the Ionians over 3'000 years ago located behind the marina provides something for those craving to learn.
The castle since then has been rebuilt and repaired several times, and was even used during World War I suffering significant damage from the French. After this, it was used as a residence until it was turned into a museum in 1991.
You can now learn about the history of the castle and the local area, and visitors are provided with spectacular views of the area.
Our Top Tips
• Dalyan is a long arc of sands is a scenic showstopper and protected nesting ground for rare Caretta-Caretta, or loggerhead turtles.
• Marmaris Dolphinarium-Aquapark is very well organized, trainers very friendly and comforting for nervous swimmers.
• Blue Cruise Deluxe offers plenty of opportunities for swimming and snorkeling as the gullet drops anchor in the many hidden bays along this beautiful coastline.
• Pamukkale is a spectacle of water-filled formations that has evolved over thousands of years.
• Turtle Watch – with a little luck on this trip, you'll get to see both species of these graceful creatures.
(This page was viewed 302 times today and shared 1 times)