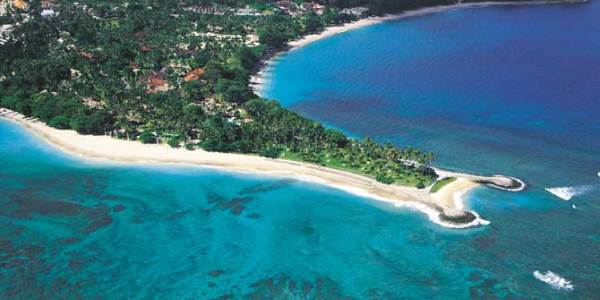 The popular tourist resort on Lombok, Indonesia's western island, Senggigi enjoys a picturesque location along several bays with relatively unspoilt beaches which sit below jungled mountains and coconut palms.
Numbers of tourists are still relatively small given its popularity and those seeking to stay in Senggigi will still be able to find some excellent value hotels, bars and restaurants.
In all the Senggigi area covers 10km of coastal road and is divided into distinct sections: Mangsit, Kerangdangan, Senggigi (centre), and Batu Bolong.
Generally speaking, central Senggigi is the most lively with the other areas offering more or less remote experiences.
Things to do
Pura Batu Bolong (which curiously means 'Rock with Hole') is not the largest of Lombok's many Hindu temples but it is one of the most picturesque.
The Balinese community that worship there are very welcoming and friendly to tourists and strangers and you can watch them leave their offerings at one of the 14 altars that rest on the volcanic slope that drops down into the sea around 2km from the centre of Senggigi. The temple is a mere 5 minutes south of Senggigi by car or 25 minutes on foot.
Traditional therapeutic massages are provided throughout Lombok and Senggigi by local Sasak women who can usually be found on the beaches and at Senggigi's numerous hotels. These massages are part of a broader tradition of folk medicine practiced in the area.
This is a great thing to experience whilst you're visiting the island. Santai Beach Cottages or Windy Beach Cottages are good places to enquire. They'll contact the local masseurs, and will usually provide a comfortable spot in their grounds for the massage to take place with refreshments such as fresh juice and traditional tea.
Senggigi is fortunate for having maintained the quality of its beaches despite the popularity of the area with foreign visitors. Senggigi beach remains a perfect spot to relax and unwind with multiple safe swimming areas.
The point at the centre of Senggigi's strip of beaches usually has good waves for surfers all year round. With a bright and colourful coral reef and all kinds of marine life, it's also the perfect place to go snorkelling.
Due to Lombok's modest size, cycling around the island is ideal. With so many curious little sites hidden away in the jungle cycling allows you to explore places that you would normally miss when travelling on the main roads by car.
There are several companies that offer the service and the most popular route is the Pengsong Temple route. It'll begin some 17km south of Senggigi to Ampenan and ends with a traditional wooden gondola ride across to Mount Pengsong Temple.
This is an experience you will not forget. Prices begin around 838150 Rupiah (current), which sounds expensive but in reality is only around 60 Euros, depending on the current exchange rate of course.
Our Top Tips
• Mount Rinjani, the second highest volcano of Indonesia is definitely one of the highlights of Lombok.
• Senggigi Beach is one of the most popular surf spots for locals and tourists, the vendors and locals aren't pushy at all.
• Kuta – from here you can explore the dream beaches of Mawun, Tanjung Aan and Selong Belanak since they are very close.
• Pink Beach it is called after its pink sand that consists out of coral.
• Mawun Beach – depending on the weekday and the time of the day this beach with its soft white sand and turquoise water is mostly deserted.
(This page was viewed 182 times today and shared 1 times)