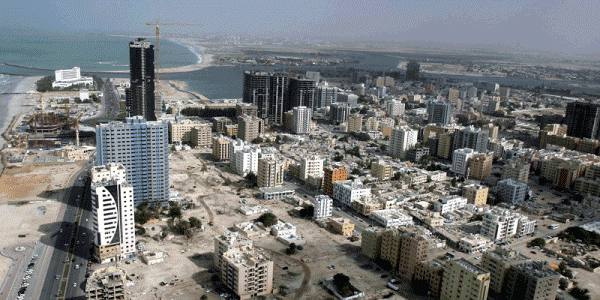 Located along the Persian Gulf, the United Arab Emirates was formed in 1971 when the Emirates;  Ajman, Dubai, Fujairah, Ras al-Khaimah, Sharjah, and Umm al-Quwain joined together.  Ajman is the capital of the emirate of Ajman.
The nearest major airport to Ajman is Sharjah International Airport. It is 26km from the center of Ajman, United Arab Emirates.
A second choice would be Dubai International airport which is 31km from Ajman, United Arab Emirates.
By 2019 Ajman expects to open its own international Airport.
The outside temperature in Ajman can reach 43⁰C under clear sky.  It's hot!
 Things to do
A large number of luxury hotels await the visitor to Ajman.  In addition there are a number of budget hotels that are clean and staffed by courteous staff.  All hotels can be easily accessed by shuttle service of taxi from the airport.
Ajman Fort – This is a museum that contains a wondrous collection of artifacts that depict the traditional life from the area.
The Red Fort – This was built (1910-1928). The fort of the two Towers was restored in 1986 and at that time a third tower was added. It is the building material that makes the wall covering red giving the fort its name.
Al Murabaa Watchtower built in the 1930s can be found on the Ajman Corniche square.
As in many Arabic countries the Corniche Square is a common evening and weekend destination for families (mainly women and children) as men migrate to the coffees houses in the side streets.  A number of restaurants are open selling local fast food.  Expatriates generally move towards the lounges of well-known hotels in the area of the square.
The city of Ajman is a working city not a regular holiday destination though it makes an interesting alternative for a short stopover when travelling to and from the gulf on business.
Out Top Tips
• Ajman Museum has a great collection of heritage. All exhibits are informative and provide deep insight into the lifestyle of Arab community.
• Ajman Beach is comparatively less crowded than the popular beaches around Dubai and the water is pristine clear. If you have kids it's the perfect place to find peace and relaxation.
• Ajman China Mall everything you will find in this mall is very cheap: households' items, electronics, cosmetics, perfumes.
• Ajman city center is the best place to eat and shopping. It is also good for children's fun and games.
• Al Jarah Cultural Center shows and teaches the culture and heritage of the Emirates.
(This page was viewed 276 times today and shared 1 times)