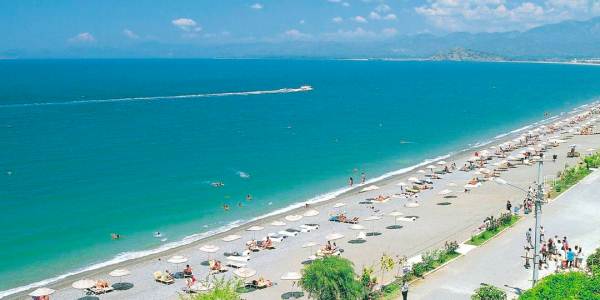 Calis is a mere 5 minutes away from the quiet port of Fethiye and is regarded as its quieter neighbour. The town which is only an hour away from Dalaman airport is more suitable for those who wish to spend time quietly relaxing and eating by the beach whilst watching the sun slowly sink into the sea.
A lot of the main attractions and activities are nearby in Fethiye which can easily be reached by frequent buses doing the short trip between Fethiye and Calis. 
Things to do
Calis hosts a nice stretch of dark, sandy and shingle beach next to crystal clear waters and a large array of cafés, bars, and restaurants for one to eat some fine food and watch the world go by. The beach is also very popular with kitesurfers and windsurfers.
Another option for beach bums is to head out to Ölüdeniz which hosts the famous sandy blue lagoon beach and is a protected national park, therefore you have to pay to enter the beach and access to the beach is shut by 6.00pm every evening.
Nearby Fethiye's symbol and most famous sight located in the cliffs overlooking the whole town is the Tomb of Amyntas. This 2400-year-old tomb carved into the rock face was built by the Lycians to honour, Amyntas, son of Hermapias. The tomb is very easy to spot as it stands over the town.
For those who wish to see them up close need to endure a steep walk up the cliffs, however at the top people are rewarded with spectacular views of the tombs and the surrounding area. There's an admission fee, but you can see great views of the tombs from just outside the entrance.
For those craving more historical treasures in the town, there's a 2nd century Roman 6,000 seater theater in the center of town which is still being excavated.
Every day from Fethiye an armada of boats leave the harbour taking tourists to nearby attractions in the area, with the 12 islands boat trip being one of the most popular trips on offer. This particular boat trip often visits Dockyard Island, Flat Island, Red Island,  Göcek Island and Aquarium bay with the boats finishing off in Ölüdeniz.
However, the itinerary often changes; therefore you need to check the itinerary before you book. Furthermore, you can get boats for fishing tours and nearby Butterfly Valley, with the majority of boats leaving at about 10.00am and returning at 6.00pm.
There are also some companies offering sunset cruises. Here you will get taken to a secluded bay nearby and watch the sun slowly disappear into the ocean. Afterwards, local food and entertainment is provided onboard.
For shopaholics, the Tuesday Market in Fethiye is a must visit. This bustling market has everything for sale, from fake designer goods, leather products to fruits and vegetables. You can even go to the fish stall, buy some fresh fish and then ask one of the nearby restaurants to cook it for you. And don't forget to haggle at the market.
Our Top Tips
• Sultans Aqua City Water Park is located a couple of hundred meters from the main traffic lights in Calis center.
• 12 Island Boat Trip is extremely relaxing and offers excellent value for money.
• Saklikent Gorge is a gorge only discovered in relatively recent times – caused by seismic activity.
• Tlos was once an important area of the ancient land of Lycia, now being one of the many historical treasures of this part of the world.
• Patara & Patara Beach: Both are good reasons to visit.
(This page was viewed 147 times today and shared 1 times)