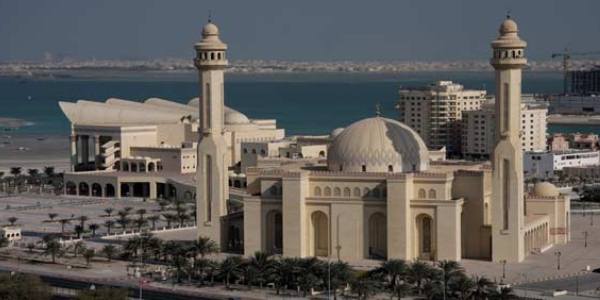 Manama is the capital and largest city of the island nation of Bahrain, situated in the Persian Gulf, with a population of 157,000.
Established as a trading port in the Gulf, nowadays the city is valued for its diverse culture and, given its position in the Gulf, a surprisingly vibrant nightlife.
There are talks of a bid to construct the world's tallest building on Manama's already impressive skyline.
Things to do
Shopping lovers will want to make their way to Bab el-Bahrain Souk which is renowned for its exotic array of spices, hand-woven object d'art and gold. At the beating heart of Manama, the Bab el-Bahrain Souk will afford you an experience of traditional Bahraini culture.
You can also expect to stop for a tasty bite to eat from one of the many authentic street food stalls.
Al-Fatih Mosque off Alwa Avenue is truly a site to behold for those both accustomed and unaccustomed to traditional Islamic architecture. An imposing edifice that can house 7, 000 worshippers, the dome of Al-Fatih Mosque is composed entirely of fibreglass, whilst the floors are Italian marble and the doors of Indian teak wood.
The opening hours are between 9am and 5pm weekly and tours are available for foreign visitors in a variety of languages. Please be aware that if you are a woman you will be expected to wear Abaya and head scarves provided and if you're a man in shorts you will be expected to don a Thobe.
If you have any interest in history, Bahrain National Museum is a necessary addition to the itinerary. Part of Bahrain's on-going concerted efforts to preserve its history, the National Museum is home to 9 main halls with distinct exhibitions spanning 4000 years of Bahraini cultural history including, as you would expect, many artefacts from the Islamic period and also treasures from the far earlier Dilmun civilisation which converted to Islam in the 7th century.
There are also temporary exhibitions, which keeps things fluid, and the entry fee is reasonable.
Home to the FIA World Endurance Championship and famous the world over for its role in the F1 Grand Prix, the Bahrain International Circuit is perfect for petrol-heads: 'The Home of Motorsport in the Middle East'. If you're thinking of heading down make sure to try and synchronise your visit with a match or track day so you have something to watch.
Alternatively, the Bahrain International Circuit also offers go-karting, drag racing and other experiences for those looking for something more hands-on. There's also a modest gift shop for those looking to take back a souvenir from their day at the track.
The Bushido Lounge near the Ritz-Carlton Bahrain Hotel and Spa is an unusually chic nightclub and cocktail bar with a Japanese theme which is perfect for tourists attracted to Bahrain because of its reputation for night-life.
It really livens up past 11pm, but before that you can enjoy a unique Bahraini fusion of Japanese food and Shisha.
Our Top Tips
• Bahrain National Museum is a great place to visit, especially on Friday when almost everything else is closed.
• Bahrain Financial Harbour is a building complex located in Northeastern Manama, close to the Bahrain World Trade Center.
• Siyadi House, also known as Bayt Siyadi is one of Muharraqs many restored ancient homes ad historic buildings.
• Beit al-Quran is the house of the Quran, a 1990 museum dedicated all to the Holy Quran.
• Bahrain World Trade Center was the third highest building in Bahrain after the twin towers of the Bahrain Financial Harbour.
(This page was viewed 204 times today and shared 1 times)