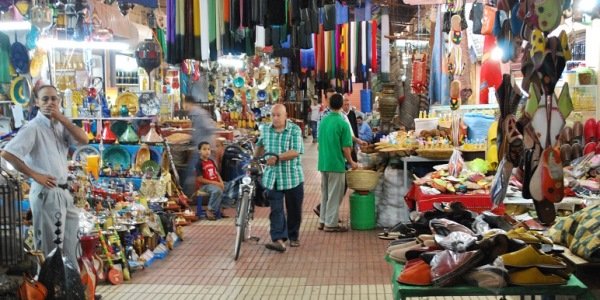 Taroudant is located In the Souss Valley in the southern part of country between the High Atlas and Anti Atlas mountains. It is a working Market town with the best preserved town walls in Morocco.
The nearest international airport is Agadir (Al Massira) that is about 65km away. Taxi or Bus ground service is available to get you to your hotel in Taroudant. When arriving by bus expect to be met at the bus station by people proclaiming the best accommodation in town. Do your research first or even better book accommodation in advance.
The climate in the Taroudant summer, June to September, has a high of 21⁰C and an average low of 14⁰C. Winter has a high 17⁰C and average low of 10⁰C. Rainfall is typically recorded 296 days a year with an average of 260 mm per year. The month of May averages the highest amount of rain and February the least.
Things To Do
Enclosed by its medieval castle walls, Taroudant is the typical example of a Moroccan market town. Try friendly bargaining at a market and then recover your spirit with a soak at an authentic Hamman steam bath.
Good, quality, modern hotels to suit all budget requirements are available. The term "riad" is used to describe a traditional Moroccan high walled house with a garden or courtyard out of sight behind the wall. Some riads offer B&B; if you get the chance take one. You will experience a different world.
The word riad comes from the Arabian term for garden, "ryad". The hotels in general have a strong Arabic feel to them which of course is the reason why you are here.
Moroccan and French food is available at a number of good restaurants in town. For a light meal meander the many small cafés that are available and the food can be accompanied with bottled water, coke, coffee or mint tea.
There are hotels with an international reputation that also provide restaurant and entertainment for visitors even those staying elsewhere.T
Our Top Tips:
• A walking guided tour of the old walled medieval city
• Horse carriage tours of the city make for a romantic and relaxing end of day before an evening of fine dining.
• The Market or Souk with its own unique Berber style. While it has a slightly 19th century and not an ancient feel to it, it is still worth a visit.
• This is Berber country, the Blue Men from the hills. You will see them in town and on the roads round the town. Berber bands often play for tourists, stay and listen; it is pleasantly different music or enjoy it at a Berber folk music evening concert under the stars.
• The square is a great place to people watch or to just hang out in the sun, sipping Moroccan tea or juice, while you watch the snake charmer.
• When in Morocco a must-do, for the not too timid, is the Turkish Bath or Hamman bath known as the Hammam, ask at your hotel for recommendations.
• Day trips can be arranged to Tioute Oasis or bird watch at Sousse Massa National Park,
Taroudant with its Arabian night's settings is just waiting for you.
(This page was viewed 199 times today and shared 1 times)