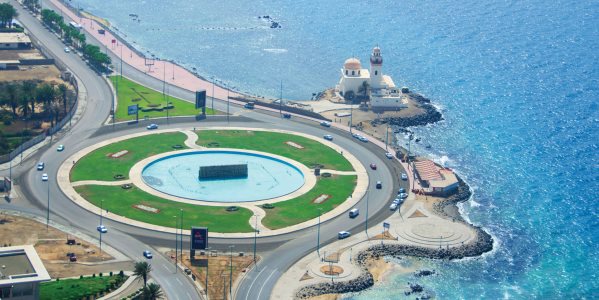 Jeddah, the gateway to Mecca. This is the largest city in the province of Makkah, on the western coast of Saudi Arabia. It is a resort town located on the Red Sea.
The nearest International Airport to Jeddah is King Khalid International Airport 20 km north of the town.
Due to the desert climate summer is May to October with an average high temperature of 37⁰C and a Low of 26⁰C. Winter temperatures dropping on average to about 6⁰C. The area humidity is high yet very little rainfall is recorded.
Things To Do
Jeddah is considered the gateway to Mecca which is located inland from this major port city.
The sea front at Jeddah is a wide paved walkway with the Red Sea to the west, a wide well paved road and plenty of car parking separating you from the hotels, shops, good restaurants and coffee bars to your east.
The sea front location provides an ideal spot for romantic sunsets over the Red Sea, with the wonderful fresh sea air filling your lungs. A casual walk along the sea wall takes you past the restaurants and coffee bars or you can eat your own food at one of the clean grass picnic areas by the sea. If you ask, fresh food will be prepared for you while you wait in one of the many clean shops in the town.
This is a relaxed holiday town where there are plenty of shops and snack bars, arts and craft stores, something to entertain the young and the old.  This is a family environment; small children can be entertained in the safe play areas.  Hand henna painting and ice cream are popular with families.
There are many new villas, luxury hotels and compound resorts (gated communities) to choose from, on the sea front and down town Jeddah. The compound accommodation is a safe and secure way to stay in Saudi Arabia.
Not all compounds separate Arab and Westerners, some do and some have a mixture, however all are safe. Check on booking to reduce to risk of finding yourself in an environment that you may not be comfortable with. Compound living has become a way of life for many expats; it is more stress-free and open-minded than that commonly found in Saudi Arabia.
No matter what accommodation that you select in Jeddah you will find it run by friendly people and designed for your holiday pleasure and relaxation. Respect their religious laws and you will enjoy your stay.
Jeddah has fine dining restaurants and seemly unending choices of eating alternatives.  Whether you have just come off the beach or you are ready for an evening out. They recognize that food is a major part of your holiday please. Food is available to meet every dietary and budget criteria.
The night life of the town Jeddah is cultured and elegant. Many of the daytime dining establishments offer an evening venue of food music and fun. A few of the compounds also provide evening entertainment. The walk along the sea wall of an evening takes on the mystical feel of the Arabian nights with its music and aromas that tease your sense of sound and smell.
Our top tips:
• King Fahd's Fountain, claimed to be the highest water jet in the world.
• Kingdom Tower that will be the tallest structure in the world when it is finished.
• Jeddah Flagpole at 171 feet is the world's tallest flagpole.
• The Makkah Gate marks where Muhammad was born. Located on road between Jeddah and Makkah.
• The old city of Jeddah with is old world Arabic style of commerce and buildings, markets and streets.
• A guided tour of the city will take you past art displays and Mosques and will give you a better appreciation of the Islamic world.
Jeddah has a rich collection of Museums both public and private. It is worth paying for an initial guided tour and when you find a specific interest go back on your own for a longer visit.
As a non-Muslim westerner, this may be as close as you will ever get to the Islamic holiest city, Makkah. Stop and meditate on this privilege.
(This page was viewed 258 times today and shared 1 times)