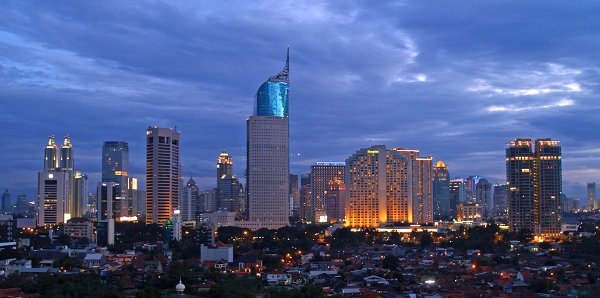 A sprawling megalopolis, Jakarta requires no introduction. It is a vibrant and diverse city of an extreme temperament which currently poses a challenging contrast of East and West to the traveller. With concrete high-rises and petrol-choked back-alleys, Jakarta can be imposing.
Luckily, its citizens are some of the kindest and most positive in the world, and crime is low. Filled with unexpected jewels, Jakarta is one of the few places in the world where you can come across leaders, artists, poets, and VIPs throughout the crazy nightlife of clubs, bars, and cafés.
Things to do
For an authentic experience of traditional Javan culture the Wayang Museum is a must-do. Housing one of the best collections of wayang puppets in the world and packed full of creaky old cabinets which are home to some ghastly and amusing characters from across Asia (China, Vietnam, India, Cambodia) the building dates from 1912.
There are even free wayang puppet performances held on Sundays at 10am. Avoid hiring any guides to the museum who tend to be there to rip you off.
To the south-east of the city is a vast parkland called Taman Mini Indonesia Indah. Ideal for those looking to escape the fast pace of the city this 100-hectare park is dotted with full-scale traditional Indonesian houses representing each province, with displays of regional artefacts and traditional garments.
There is also an orchid garden and a bird park. With an IMAX, museums, and theatres throughout the grounds the park is host to free cultural performances on Sundays, much like Wayang Museum. Visitors can walk, drive, take a shuttle bus or use the monorail to get around the park. Taman Mini Indonesia Indah is some 18km from the city centre.
As of 2015 the centre of Jakarta's nightlife is the Sudirman Central Business District (SCBD).
In the past three years literally hundreds of bars, clubs and restaurants have popped up in this area. If you're looking for a drink and chill-out time try Lucy in the Sky, Potato Head Garage or Canos in Foundry 8. For entertainment you have a choice between Fable, which is popular with students, and Empirica, for the upper-class Indo Chinese.
As of yet none of these places have become too touristy and as such both the atmosphere and the prices are superior to other places in the centre of Jakarta.
Just a short walk away from the Petak Sembilian street market is the vast Buddhist temple compound of Jin Du Yuan dating from 1755. One of the most culturally significant in the city, the main structure of Jin de Yuan is architecturally is unique, with a roof crowned by a pair of dragons eating pearls.
Within, you'll find the smell of incense and candle smoke collecting densely around enigmatic statues of the Buddha, beneath which monks ring bells, play drums, and chant. Also look out for the miraculous examples of traditional calligraphy.
Our Top Tips
• Ancol Dreamland is open for 24 hours with amusement park.
• National Museum of Indonesia (Musium Nasional), being two centuries old, is an icon that you must visit. It is located at Jalan Medan Merdeka Barat in center of Jakarta city.
• National Gallery is a combination of museum and art gallery in Jakarta, where you can enjoy culture, history and visual arts.
• Gedung Kesenian Jakarta is a concert hall in Jakarta, Indonesia. It is situated close to the Istiqlal Mosque and the Jakarta Cathedral.
• Go for traditional Indonesian massages, or soothing spa in the middle of the city.
(This page was viewed 108 times today and shared 1 times)