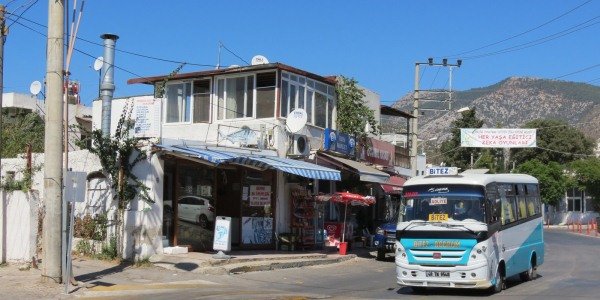 The southern Turkish old village of Bitez, unaffected by the boom in holiday tourism, has retained it authentic charm. The beach is small and can get crowded during July and August.
Located just 15 minutes by bus or taxi from the nightlife of Bodrum and Gumbet, it arguably provides the best of all holiday worlds. This is an agricultural working village that caters to a small number of discerning holidaymakers.
The Milas-Bodrum Airport is a mere 10km away which has connections to a large number of cities through Europe. Taxi from the airport door to your hotel is the easiest way to reach Bitez. Alternatively there is the less convenient but efficient bus route.
The climate in Bitez can be described as Mediterranean with hot (30⁰C) summer days and little rain coupled with mild winters. Mediterranean winters while considered mild to the people of northern Europe, are considered cool for those that live there all year round.
Things to do
Bitez has new and reasonably priced hotels, guest houses and resorts that have been tastefully built to meet the growing demand for all-inclusive holidays.
Turkey is a Muslim country that respects all religions. Bitez offers an opportunity to observe and appreciate the friendly people who are just going about their daily lives. You are unlikely to tire of the views surrounding your choice of a holiday base.
Have your camera ready as you stroll the unspoiled streets of this charming village. The way of life here is simple, it has a peace about it that you will want to take home.
You are made aware of the difference, as you enjoy a cool glass of Turkish tea or a hot and rich Turkish coffee. You are watching the older women with their head chafes covering their hair and you hear the call to prayer from the Mosque Minarets.
To the inexperienced traveler this could be a page out of the children's story, "Arabian Nights". This is magic.
The beach of course is the main attraction. With its soft sand, warm shallow water and safe bathing for all. Bitez's beach is a stretch of sand and stones curving around a new moon shaped bay is complemented with a number of well-placed bars and cafes so that excursive does not have to be too exhausting.
Evening entertainment is limited in Bitez, there are a local bars and bay side inns, but, for a lively night out, your best choice is taxi to Bodrum or Gumbet.
Due to the on-shore wind Bitez is considered the kite flying, windsurfing and small boat sailing capital on the Bodrum peninsula. Parasailing and water skiing from tow boats is also popular.
Boat trips are available from the beach to provide you with a glimpse of the beauty of the Aegean sea coastline as seen from the water. The boat tours often provide snorkeling or a lunchtime barbeque for their guests.
At the end of your vacation there is the "Turkish Delight" shop. Here you can sample the delicious flavors while watch the making of this famous sweet. Having purchased a sample to take home for friends, it takes will power, not to open the box for just one more taste before heading to the airport.
Our Top Tips
• The Weekly Farmers Market is held every Thursday in the Village (not near the beach).
• The Sunday Flea Market is held in the same location and the Village Farmers Market, and is a good location to stroll around on any given Sunday.
• Ortakent village is next one along the coast from Bitez, heading west.
• Bodrum is the Turkish equivalent of Nice – favoured by celebrities and media types.
• Castle of St Peter was constructed in 1406, by the Knights of St John. It came under Ottoman rule in 1523. It became a prison in 1895. It was shelled by the French during WW1.
(This page was viewed 228 times today and shared 1 times)