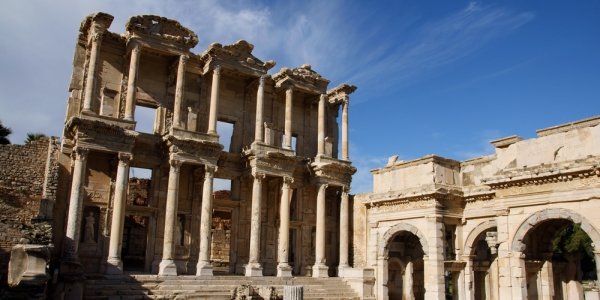 Kusadasi is located on Turkey's western Aegean coast in the district of Aydın Province. Kusadasi which in Turkish means "Bird Island" has the reputation of being the most attractive of the many beautiful resort locations in Turkey.
Located as it is in a stunning gulf off the Aegean Sea it has the four great holiday "S" words: Sun, Sand, Sea, and Stunning historic buildings dating back 3000 years. Today it is one of the most cultured holiday resorts on the Turkish Aegean coast.
There are two International Airport options for getting to Kusadasi from Northern European cities: Izmir Adnan Menderes International Airport which is about 84km away and Milas-Bodrum Airport which is approx. 126 km away.
Travelers to Kusadasi can take the shuttles and transportation vehicles leaving from Izmir and reach their destination after a short journey.  Car rental and intercity bus service is also available. There are good connections but check details before your departure.
The climate in Kusadasi can be described as Mediterranean with hot (30⁰C) summer days and little rain coupled with mild winters.
Things to do
Kusadasi has become a successful holiday resort in its own right, having many new and well catered hotels and resorts with beach and pool facilities. It offers hotels to suit all budgets.
There are plenty of restaurants over the road from the beach to suit all tastes and enough bars along the promenade and down the narrow winding streets to provide you with a choice of a relaxing afternoon drink or an all-night party.
Kusadasi attracts international visitors with sandy beaches and over 300 days of sun each year.
The glittering blue water of the Aegean Sea, countless fish and kebab restaurants, catering to all dietary requirements and northern European tastes, its safe shopping and historic sites have made Kusadasi a destination of choice.
Water sports or boat trips are plentiful and can be hired directly off the beach. The sea is safe for swimming and children of all ages can enjoy themselves.
Ephesus is the most famous ancient city which is besides the town. Reportedly visited by the apostles as recorded in the Christian Bible and is only one of the many historic sites that are easily accessible by organised tours or self-drive day trips.
The area has been a cradle of art and philosophy for thousands of years and has something unique to offer each visitor no matter what your beliefs are.
A number of discotheques, bars and clubs have live music and can be safely visited in the town itself.
Kusadasi is big enough to stop for a moment to consider how you are going to explore the area: The easy way is the minibus service (Dolmus in Turkish) which is readily available from your hotel. The route and the stops will be available on the minibus signs.
Taxis are a useful alternative particularly at night. Finally you can walk as the town is mostly flat this is the best scenic way to travel and enjoy the city. In thirty minutes, if you are moderately fit, you can cross the city.
Visit Kusadasi and enjoy the magic of their blend of old and new under the Aegean sun.
Our Top Tips
• Visit the ancient city of Ephesus and the Virgin Mary's House. Holiday to Kusadasi is not complete without going on a tour to the ruins of the spectacular ancient city of Ephesus and the peaceful Virgin Mary house.
• Have a drink in the rooftop bar at Dejazar Wine Bar. Chill out with an ice cold Efes or a glass of wine on Dejazar's fabulous roof terrace and watch a beautiful sunset over Kusadasi Marina.
• Explore Pigeon Island and visit the museum. The island is the symbol of Kusadasi and where the name Kusadasi (meaning Bird Island) originated from.
• Go on a Jeep safari and explore the surrounding areas of Kusadasi.
• Take a day trip to Izmir. Izmir is Turkey's third largest city and 85km's away from Kusadasi.
(This page was viewed 170 times today and shared 1 times)