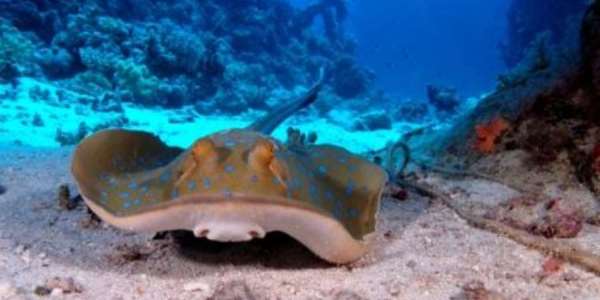 Sharks Bay is a resort bay north of Sharm el-Sheikh city center; it is a diving destination not a beach resort. The area has grown into a thriving resort location spreading out along its crescent shaped, man made shoreline, with its boardwalks that stretch out into the water getting guests from selected hotels over the coral into deeper water for the docking of boats and swimming.
Do not be intimidated by the name, shark spotting is not a local pastime. Luxury hotels and resorts own the shoreline with their floating docks to get you out to swim platforms and provide boat access.
The nearest international Airport is the Sharm el-Sheikh International Airport is located only 9km south of Shark Bay. There is a good bus and taxi service that will get you quickly to your hotel of resort.
With its location you can expect the subtropical arid climate with very little rain. Summer is considered to be May to October with average temperatures highs of 35⁰C and lows of 25⁰C, August is the hottest month. The winter lows can drop to just 15⁰C.
Things To Do
Overlooking the Straights of Tiran at the mouth of the Gulf of Arabia, Sharks Bay restaurants and discos have gained popularity as a tourist spot on the map of Egypt. In response to an increase in visitors new hotels and resorts with international quality are being built to meet that need.
Most of the hotels and resorts of Sharks Bay do not have direct access to the water and there is no public beach. Those hotels that do have a beach try to restrict it for their guests only. Most of the other hotels do have magnificent pools for your enjoyment and pleasure. The beaches are Naama and Sharm El Maya and are a short taxi drive away with many Shark Bay hotels providing a shuttle service.
There is a variety of restaurants within easy walking distance in Nabq Bay. Alternatively there are plenty of restaurants in the greater Sharm el-Sheikh area only minutes down the road. La Strada in Nabq Bay is the entertainment area having numerous restaurants bars and nightclubs.
An evening in La Strada in Nabq Bay is buzzing with life. It is not just the place to shop but where you go to be with people, to listen to music, to eat and enjoy the pleasure of being in the Sharm el-Sheikh area.
The hotels and bars of the area have live entertainment and DJ's but this is not the party town of Naama Bay, it is relaxed comfort after a hard days diving on the local reefs. If it is a wild night out that you are looking for many hotels run a shuttle service to Naama Bay, a lively entertainment district.
Our Top Tips:
• Coral reefs, hundreds of fish, rays and sharks, this is scuba diving in the Red Sea. Organized boat trips to known dive sights are the way to go. Take normal precautions and pay attention to your experienced guide to ensure that you have the full enjoyment of the areas dives.
• Golf on one of the areas fine golf courses.
• Al Khan, an outdoor shopping area is an experience to be sampled. Al Khan offers a variety of well-known designer stores and numerous little cafés and bars that serve cold drinks to meet your every mood. This is a family area so chill out after an afternoon of sun and shopping the kids will enjoy it no matter what their age.
• St Catherine's Monastery. Built in the 6th century by the Christian Byzantine Emperor, Justinian I, at the location were Moses is believed to have experienced God in the burning bush. The active Monastery is operated as part of the Greek Orthodox Church but is considered a holy place for Jews, Christians and Muslims.
Mohammad personally signed a document granting this monastery giving this non-Muslim religious building the freedom of religious beliefs. Visit by bus or car or as part of a multi-location tour group.
• The Nabq National Park north of the city for a look at the way in which Egypt is preserving the exceptional mangrove area desert meeting the salt waters of the gulf
• Sinai Casino. A value for money air-conditioned experience during the day or night. Eat good food, drink and gamble or just people watch it's a fun and cool experience after a few very hot days.
• Quad biking tour groups into the desert is pure fun. They target the early morning or late afternoons to avoid the heat of the day and to enable you to see the incredible sun rise or sun sets that the area has to show you.
Sharks Bay draws the diving people or those content to be by the resort pool with the knowledge that they can choose the crowds or not. If this is you, book your next vacation at Sharks Bay.
(This page was viewed 191 times today and shared 1 times)