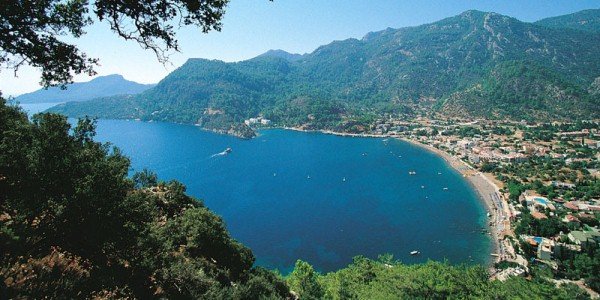 Turunc is a compact tourist resort located about 20km from the neighbouring tourist resort of Marmaris, and two hours away from Dalaman Airport.
Despite the rapid growth of tourism in the area, this former fishing village still manages to preserve its natural beauty and charm whilst having plenty of bars, cafes, and restaurants along the beach and a thriving nightlife to keep you entertained during your stay there.
For those wishing to go out a little further, there are frequent buses and boats heading out to nearby resorts and attraction every day. Do pay a visit to Icmeler too which is close to Marmaris and a super little place.
Things to do
Turunc hosts a smooth sandy Blue Flag beach sitting next to calm, clear blue waters and backed by a large variety of bars, restaurants, cafes and shops. The beach has sun beds, parasols and cushions available for you to use free of charge, therefore making it the perfect place to sit back and relax.
There are also many different water sports available for those looking for a little more excitement than just relaxing.
Every morning an armada of boats leaves the harbour in Turunc taking people on half day and full-day cruises around the clear blue waters to the nearby islands, snorkeling reefs and beaches, providing great opportunities to go snorkeling and explore the underwater wildlife.
The most popular cruise being the five bays cruise which visits Kadigar Bay, Monastery Bay, Ciftlik, Kumlubuk and Amos. All the trips come inclusive with lunch, and some include soft drinks too.
There are also customised trips available for individuals or small parties with some companies also offering sunset cruises. Here you will get taken to a secluded bay nearby and watch the sun slowly disappear into the ocean.
Afterwards, local food and entertainment is provided onboard.
Every Monday a few minutes' walk from the harbour, Turunc has its weekly market which runs from 8.00am to 4.00pm. There is a large variety of stalls offering a wide choice of clothes, leather products, cushions, and other interesting and unique ornaments.
There are also food stalls providing a great selection of cheese, nuts, fruit, and honey. When shopping at the market remember to never accept the first price, and always haggle, however, when haggling remember to keep it light and friendly.
With its numerous hiking and walking trails in the area, Turunc is a great base for visitors who wish to go hiking in the area. The local Turunc website provides visitors with details about the different hiking trails in the area, with the hike to Amos Bay and Kumlubuk being especially popular with its stunning scenery and panoramic views.
For those craving to learn a little about the Turkish history, many tour operators run daily buses from Turunc to the ancient city of Ephesus.
This World Heritage Site requires an early morning start, however those who manage to drag themselves out of bed early enough are then rewarded with a large variety of fascinating monuments and buildings and an amphitheater which was once able to hold 2400 people.
Our Top Tips
• 5 Bay Day Out it's a one day trip. By the harbor look for the captains selling trips in the evenings.
• Walk to Amos if the weather is not too hot and you like a walk. There's nothing better than a stroll along the coastal road to Amos village.
• Visit Marmaris, to stock up with fresh meat and provisions, as the local fruit and veg is just superb, especially the Rocket salad leaf.
• Boat Trip to Dalaman; all the boats down at the harbour offer all the different trips.
• The trip to see King Kournos`s Tombs were a must see then on to the mud baths well you just got to do it.
(This page was viewed 168 times today and shared 1 times)