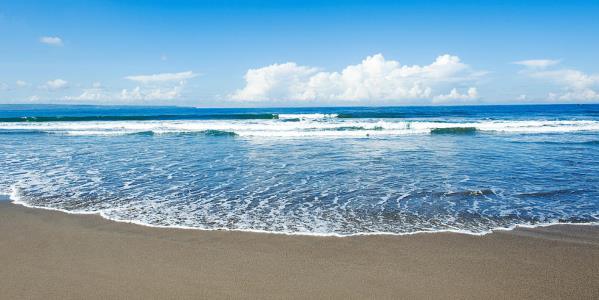 Seminyak in Bali, Indonesia, is located on the west facing side of the island. It is a beach resort that has become a magnet for international tourists wanting to experience the beach, sunsets and serenity that Bali is famous for.
The nearest international airport is Ngurah Rai International just 10km away north of Kuta. A local taxi is the best way to reach your hotel in Seminyak if ground transportation is not part of your holiday package. Travelers on a tight budget should consider staying close to the airport.
The climate in the Seminyak, like most of Bali, has a yearly average summer high of 30⁰C and an average low 22⁰C. The winter or rainy season is November to June, they tend to be hot and rainy; the humidity makes for sticky living conditions. It is recommended that a room with air-conditioning is requested for people not used to sleeping in humid conditions
Things To Do
Seminyak is the beach resort area north of Kuta, facing west to views of the famous Bali sunsets.
Many new luxury hotels have been built, designed for your holiday pleasure and relaxation whether you want a romantic holiday, a family get away, a unique wedding or the chance to explore this wonderful island in the South Pacific, from a base on a stunning beach.
For a quieter stay there are vacation rental houses and many Bed & Breakfast establishments who cater to your needs with quality and efficiency. For a family this is a good place to stay, with the evening entertainment out option at Kuta only a 10 minute taxi ride away.
The Seminyak beach area has fine dining restaurants and seemly unending choices of eating alternatives. Whether you have just come off the beach or you are ready for an evening out. This is Bali; they recognize that food is a major part of your holiday pleasure, be prepared to pay accordingly though. Food is available to meet every dietary and budget criteria.
The night life of Seminyak is cultured and elegant. Many of the daytime dining establishments offer an evening venue of food music and dancing, Bali is refined fun. A few of the hotels have gained international reputations for quality evening entertainment.
Seminyak claims to have the best beaches on Bali. Staying there is an opportunity to enjoy the Balinese serene sunset and the Indonesian music played by the Gamelan players (traditional band of local musicians), who play to the beat of the kendhang (Local Drum).
The soft smooth sand between your toes and the warm sun will keep you on the beach. But when sand, sun and water becomes too much there is the spars, boutiques and of course general holiday shopping for your entertainment.
Our Top Tips:
• The main local and international attraction at Seminyak is the beach.
• Rental of wave runners and sail boards.
• Wind surfing and kite surfing are popular beach activities.
• Diving and snorkeling trips are available book on the beach, equipment rental is available.
• In the immediate area outside of the beach there is Petitenget Temple or "Pura Petitenget". Built in the 16th Century as one of a number of Hindu sea temples it was designed to protect the island perimeter.
A visit to these temples should be high on your list while in Seminyak. Pick your visit timing to coincide with one of the 210 annual days of ceremonies. You will be serenaded with traditional music and see traditional dancing.
• Day trips by mini bus boat will help you explore the island.
• Jeeps are available to help you explore in a more adventurous way. Car and motorbike rental are also options.
Seminyak Bali is calling you, you have to visit at least once in your lifetime.
(This page was viewed 158 times today and shared 1 times)