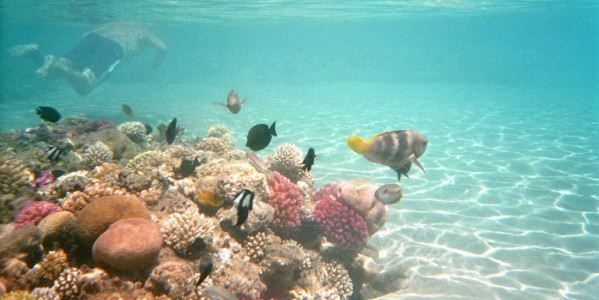 Makadi Bay is a relatively recent addition to the Red Sea coast of Egypt. The airport is located  just 3 miles from downtown Hurghada and from there it's just a short 30 minute car journey  to Makadi Bay.
Known for guaranteed sunshine all year round, golden beaches and pampering  hotels, Makadi Bay is becoming an increasingly popular destination for holidaymakers from  around the globe.
This isn't a wild place to holiday and its virtue lies in quiet relaxation on the  beaches by the sea. There are also several world-class diving companies in the area.
Things to do 
Just a 15 minute drive from the centre of Makadi Bay the Diving Ocean project based at Prima  Life Hotel is a perfect adventure trip for beginners and experienced divers alike.
You will be  taken out by an experienced team, provided with the best possible equipment and then gently  introduced to diving to around 3m and eventually further. The Red Sea is renowned for its  marine wildlife so keep on the lookout for Blue Spotted Stingrays, Giant Moray Eels and Clownfish.
Just south of the town centre Makadi Water World is an impressive water park with over 50  different slides and attractions to suit the whole family. Whether you're a young couple or a  family with children there are rides to suit every age group from 2 years upwards.
The place is  known for being well-organised, clean, safe and with friendly staff. Dolphin shows are held  daily and not to be missed.
Unsurprisingly, Makadi Bay is renowned primarily for its waterparks and watersports.  Iberotel Makadi Saraya Splash Resort is no exception and boasts a serious advantage being  just 5 minutes' walk from the beach.
This huge resort is a combination of hotel, waterpark and  shopping arcade all in one. With five swimming pools, big slides with scary names like  Kamikaze and Twiser, a luxurious spa and a smattering of bars and restaurants, Iberotel  Makadi Saraya Splash Resort is a great place to visit for the day or stay at for the duration of  your trip.
Tornado Surf Centre, which is just a 30 minute drive from Makadi Bay, is the ideal spot for you  to enjoy the pleasures of surfing, windsurfing, catamaran sailing, paddle surfing or  kitesurfing.
With all the latest equipment and experienced staff you can expect to have a fun  day or week out whether you're just starting out or trying to improve upon your existing skill. Tornado Surf Centre is a modest sized centre which means you'll receive more attention and  care than in some of the larger centres along the coast between Hurghada to the north and  Safaga in the south.
If you're not keen on getting stuck in to the sports you can just enjoy a  Drink grab a bite to eat and watch everyone else make fools of themselves!
Our Top Tips
• Book a snorkeling trip to Giftun Island and laze off on magnificent sandy beaches and swim in the crystal clear water of the Red Sea.
• Diving in Abu Hashish is an all-level diving site with a rich marine life and thrilling features for experienced divers.
• Unwind on Makadi Bay's white sands. Makadi Bay's luxury hotels have parceled out the sands around the turquoise bay into a clutch of private beaches.
• In the middle of Makadi Bay is Souk Makadi, a modern bric-a-brac emporium that's somewhere between an Arabic souk and a Western shopping Centre.
• A camel ride is almost compulsory in Makadi Bay. Some hotels have their own resident camel to get saddled up on.
(This page was viewed 394 times today and shared 1 times)