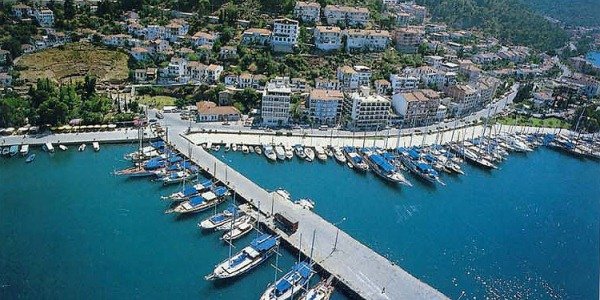 This modest port built in a natural harbour with turquoise water and traditional buildings due to a restriction on high-rise buildings is rapidly expanding and becoming a favourite holiday destination for many.
The town which is only an hour away from Dalaman airport has something for those who love history, relaxing in the sun, and experiencing great food.
Furthermore, nearby Calis and Ölüdeniz can be quickly and easily reached by the frequent buses providing you with more activities for you to experience.
Things To Do
Fethiye's symbol and most famous sight located in the cliffs overlooking the whole town is the Tomb of Amyntas. This 2400-year-old tomb carved into the rock face was built by the Lycians to honour, Amyntas, son of Hermapias. The tomb is very easy to spot as it stands over the town.
For those who wish to see them up close need to endure a steep walk up the cliffs, however at the top people are rewarded with spectacular views of the tombs and the surrounding area. There's an admission fee, but you can see great views of the tombs from just outside the entrance.
For those craving more historical treasures in the town, there's a 2nd century Roman 6,000 seater theater in the center of town which is still being excavated.
Every day in Fethiye an armada of boats leave the harbour taking tourists to nearby attractions in the area, with the 12 islands boat trip being one of the most popular trips on offer. This particular boat trip often visits Dockyard Island, Flat Island, Red Island, Göcek Island and Aquarium bay with the boats finishing off in Ölüdeniz.
However, the itinerary often changes, therefore you need to check the itinerary before you book. Furthermore, you can get boats for fishing tours and nearby Butterfly Valley, with the majority of boats leaving at about 10.00am and returning at 6.00pm. There are also some companies offering sunset cruises.
Here you will get taken to a secluded bay nearby and watch the sun slowly disappear into the ocean. Afterwards, local food and entertainment is provided onboard.
The nearby area has a large variety of different beaches for one to explore. Ölüdeniz is home to the famous sandy blue lagoon beach which is a protected national park, therefore you have to pay to enter the beach and access to the beach is shut by 6 pm every evening.
Nearby Calis, also hosts a nice stretch of sandy and shingle beach next to crystal clear waters and a large array of café, bars, and restaurants for one to eat some fine food and watch the world go by.
For shopaholics, the Tuesday Market in Fethiye is a must visit. This bustling market has everything for sale, from fake designer goods, leather products to fruits and vegetables. You can even go to the fish stall, buy some fresh fish and then ask one of the nearby restaurants to cook it for you. And don't forget to haggle at the market.
Our Top Tips:
• Paragliding – Try this just once in your lifetime, even if you're scared of heights. Go with a reputable company though as being 2000ft in the air experience is probably more important than cost.
• Boat Tours – There are several tours on offer just be aware that some of the day ones can be a little exhaustive so maybe go for a half day.
• Visit the Blue Lagoon – Definitely worth a visit. You pay an entrance fee and a fee for the sun loungers but it isn't extortionate. Your hotel may also provide a shuttle service.
• Horse Riding – A pleasant couple of hours with great scenery. A nice, relaxing change.
• Fethiye Market – A hive of activity with everything to sell. Get your haggling lingo ready.
• Calis Beach – One of the most beautiful beaches in turkey.
• Saklikent is a wonderful place to enjoy the flora and fauna of the canyon or just to relax and enjoy a fresh trout lunch by the gushing river.
• Lycian Way – you do have to be reasonably fit and agile as it is a pretty good climb reaching 400 meters before descending into the valley to Kayakoy.
• Kayakoy is a small village. You must wear sensible shoes to walk round the ruins couple of nice little taverns to chill and refresh in.
• Old Town is excellent for shopping and a full of excellent restaurants, and lively bars, particularly at night when it becomes home to the locals who want to party.
• Pinara Antique City. The drive up to the site is slightly hairy if you're nervous, but perfectly fine to do in a standard hire car.
(This page was viewed 133 times today and shared 1 times)