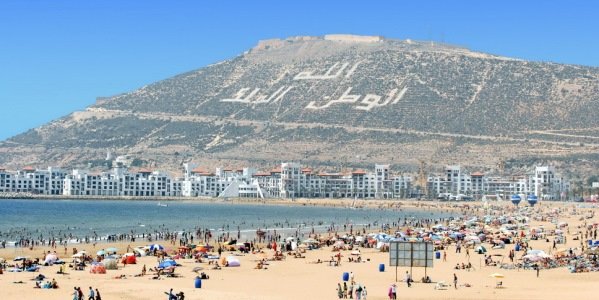 Agadir, a city on Morocco's Atlantic coast, is 508km south of the famous Casablanca, 173km south of Essaouira and 235km southwest of Marrakech. It is naturally protected inland by the Anti-Atlas Mountains. This is a resort town of beaches and golf courses.
The nearest International airport is Al Massira International 21km (13 Miles) south east of the city.
The weather in October to May averages 21⁰C during the day with an average nighttime temperature of 9⁰C. General weather is subtropical semi arid with warm summers and mild winters. Rainfall is about 250mm (10 inches) annually.
Things To Do
Originally a small fishing village on the shore of the Atlantic Ocean Agadir has grown to become the city it is today whilst facing an eclectic collection of European immigrants and then the deadly earthquake of 1960 that killed a large portion of the population and required significant rebuilding.
Out of the ashes rose a city that shook off its Moroccan routs and adopted its European heritage. It is from this rebuilding that today we have a 20th century European city with a Moroccan blend. This has become a magnet for tourism from all corners of the world.
Agadir is a Moroccan city literally reborn in the 1960's. Of course it still has hostels but it also has new first rate hotels and spacious resorts. The mixture of accommodation gives it character, and provides for every budget and holiday need.
Everyone on holiday has their own preference for what makes a perfect meal. The restaurants of Agadir rise to the occasion. Food choice is huge and from a blend of many nations reflecting the 400 years of immigration.
Moroccan food is excellent and well prepared. Food to fit all dietary requirements is available. A personal favorite, after four weeks in the desert, right behind a dip in the ocean was Pizza Hut!
Family friendly restaurants are plentiful and the supply of good quality ice-cream seems endless.
Agadir nightlife is geared for the summer and the tourists. Follow your ears for the sounds of fun and join the crowds. The terrace is lined with bars, cafes and occasional night clubs that will stay open well into the night.
There are high end nightclubs near the city core, their cover charges reflect the wealthier clientele that they expect.
Our Top Tips:
• Souk El Had d'Agadir – Closed Mondays. A traditional market with plenty of local art and specialty items for sale. Be prepared to argue the price.
• Surfing,  Windsurfing & Kitesurfing – This is the beach with the Atlantic breakers and trade wins
• The Beach – Miles of clean sand and sun and all the beach activities you want.
• Kasbah – 7km north of the city. Built in 1541 as a fortified township. All that remains now is the walls. Well worth a full days visit.
• Paradise Valley – a Natural unspoilt Valley for the reasonably fit. You have to cross streams and climb hills but it's a beautiful place to just experience. No facilities, a 25 minute walk to the valley.
• Croco Parc – This is actually a tropical park that also has over 300 crocodiles. Feeding time event is at 1500hrs.
• Agadir Fishing Port – Agadir was and still is a fishing port. Pay a local guide for the best experience see authentic Moroccan life as it is.
(This page was viewed 315 times today and shared 1 times)