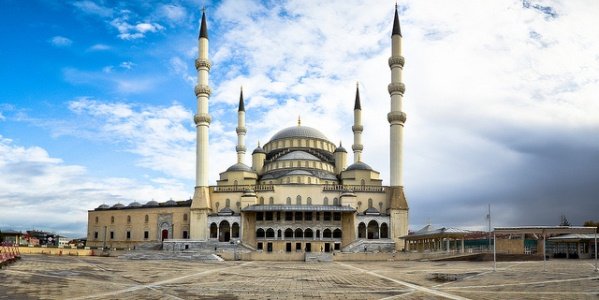 Ankara is the modern capital city of Turkey; a European city located in Asia. In its surrounding area there are ancient buildings and ruins in the form of castles and fortifications dating back 3000 years to a time when they traded with the ancient Egyptians.
Its location between continents and large expanses of water has given Turkey a large biodiversity of the plant life. Ankara is a gardeners dream in the springtime, with the perfumed fragrance of the blossoms carried on the warm breeze, bringing to your sense of smell the splendour of the parks and garden that can be seen in every direction.
The city is located inland from both the Black Sea and the Aegean Sea coasts in the heart of the central Anatolia region. This is the central plateau of Turkey. The nearest international airport is Esenboga International located 28 kms/17 miles north of the city, a half hour drive. Bus, taxi, limo or ground transportation is readily available.
The climate in Ankara between June and September has an average high of 28⁰C and a low of 15⁰C. Their winter is December to February with an average high of 12⁰C and a low of 7⁰C.
Things to do
Today Ankara has become the Turkish centre for arts with its own Symphony, Opera, Ballet companies and the headquarters of several national theater groups. In addition Ankara has a creditable university and is the home away from home for the foreign consulates.
International quality hotels with spars have been built in this area to make your stay more comfortable whether you need a business stop over, a romantic holiday, a family get away, or just the chance to explore this wonderful central part of Turkey and its capital. For a quieter stay there are Bed & Breakfast establishments who cater to your needs with quality and efficiency.
Night clubs and dinner shows with both an eastern and a western ambience about them are plentiful and provide a safe relaxing evening's entertainment.
Restaurants of every variety are available in the city within easy walking distance of city area hotels or a short taxi ride away. Whether you want quick food in a relaxed atmosphere or you are ready for an evening out in Ankara they recognize that food is a major part of your holiday pleasure and as such food is available to meet every dietary and budget criteria. Fine dining restaurants combined with dinner shows are very popular.
Our Top Tips:
• Taxi or bus to explore the city plus a good set of shoes for walking. Private conducted tours will pick you up at the hotel door in a minivan that will reduce the walking required.
Car rental with or without a driver is the best way to get round outside the city area. A three hour drive to the south gets you to Konya and the archaeological site of Çatalhöyük.
This is the largest Neolithic site know in the world. Located on the southern Anatolian Plateau it has revealed occupation dating back to 7200 BC. In the structures and artifacts found the story is told of how humans evolved from hunter gatherers to settled agricultural dwellers. Check it out on Facebook.
• Ankara Citadel – with stunning views the citadel surrounds old Ankara, and is free to enter and explore.
• Old Quarter – a walking tour of the historical Old Quarters. Tight cobblestone roads twist and turn, old red-roofed Ottoman houses, thick fortified walls and cluttered merchant shops. They sell, barter and trade everything from jewelry to water pipes to textiles
• Admire the elegance of Kocatepe Mosque – Ankara's largest and most inspiring place of worship.
• The Museum of Anatolian Civilization – priceless artifacts from the Paleolithic and Neolithic eras as well as the Hatti, Hittite, Phrygian, Urartu and Roman civilizations. Worth a visit to Ankara all on its own if you enjoy history.
• The Ankara Symphony or the Opera have year round performances scheduled. They do not play in the city every week though so check ahead of your visit to prevent disappointment.
When in Turkey a must-do, for the not too timid, is the Turkish bath known as the Hammam. Your hotel or tour guide will help you find a Spar that will best suit your needs.
Place a visit to Ankara, a modern city with an ancient story to tell, on your to do list.
(This page was viewed 158 times today and shared 1 times)