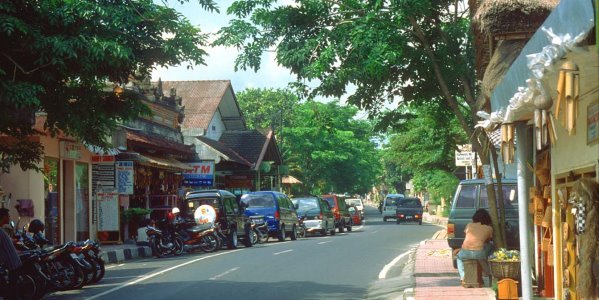 Ubud is a beautiful mountainous region of forest, lakes, traditional culture, dance and history.  No visit to Bali is complete unless you spend some time in Ubud. Here the local village people will make you welcome and the many spars will help take away all the pain from the fun and nightlife of the coast.
Ubud is the cultural centre of Bali. It has the feel of a town but in reality it is a group of 14 villages independently run by its own Banjar (village committee).
The nearest international airport to Ubud is Ngurah Rai International, north of Kuta, and just 36km or 45 minutes away by car. This is a main road with beautiful scenery that changes slowly as you drive into the serene mountains and history of Bali. To reach Ubud by road, from the north, Singaraja or Seririt is a 1 hour drive. Coming from Denpasar in the south is 45 minutes. And from the towns on the northwest shore it is a 2hr drive.
The climate in Ubud like most of Bali has a yearly average summer daytime high of 30⁰C with an average low 22⁰C, but at night it can drop to 10⁰C in the Ubud villages. It is recommended that you bring warm clothing. The winter or rainy season is November to June and tends to be humid and hot. It is recommended that a room with air-conditioning is requested for people not used to sleeping in humid conditions.
Also in these high mountains rain is less predictable and the humidity can climb rapidly.
Things To Do
Ubud is the name given to a group of villages south of the central mountains. It is situated between rice paddies and thickly forested mountain gorges. Central Bali with its dense forests, lakes and traditional culture provides an alternative to the beach and party atmosphere of the coastal resorts.
International quality hotel/resort/spars have been built in this area designed for your holiday pleasure and relaxation. Staying in Ubud is perfect whether you want a romantic holiday, a family get away or the chance to explore this wonderful island in the South Pacific.
In this quiet traditional area there is little in the way of night life. Ubud hotels offer a place for a quite drink but beware; regulations regarding drink and loud noise are strictly enforced.
Car rental with or without a driver is the best way to get round this area. Taxis are in short supply.
Our Top Tips:
• The area spars have developed an international reputation as one of the best spa and alternative medical treatment destinations in Asia. Massage Therapy, Acupressure, Reflexology, Stretching and Aromatherapy are all available.
But what you may ask is Acupressure? It is just one of a number of Traditional Chinese Medical treatments that are slowly being accepted in the west. It uses the same principles as acupuncture without the needles.
• Ubud is also the centre of Bali's Art and Culture with many art galleries, museums and local craft workshops to visit and local market. Cultural dance presentations can be seen most nights. These are a display of colour and motion not to be missed.
• If you have never seen a terraced rice paddy, they are an incredible site. The rice terrace in the village at Tegalalang near Ubud is recognised as one of finest in Bali. A tour to view this agricultural marvel can be arranged by your hotel or tour guide.
• The Monkey Forest Park is just down the road by car, it is the place to see hundreds of Long-tail Macaques monkeys.
• The history found in the archeological sites and the Hindu temples can be easily visited from your stay in Ubud. A typical example is the Goa Gajah (Elephant Cave). This structure dating from the 11th century has a mixed Hindu/Buddhist past and is located 2km southeast of Ubud on the road to Gianya.
• Hiking trails or motorbike rentals can get you safely out onto the back roads for a look at Bali as it was and is today.
• The central mountain region of Bali contains stunning views, natural settings and the history of Bali. With all its cultural offerings, to avoid this as part of your journey to Bali, is to miss out on Bali itself.
Rogers and Hammerstein wrote in one of their songs for the musical South Pacific the words that capture the pull of Bali. "Here am I, your special island! Come to me, come to me!"
(This page was viewed 131 times today and shared 1 times)