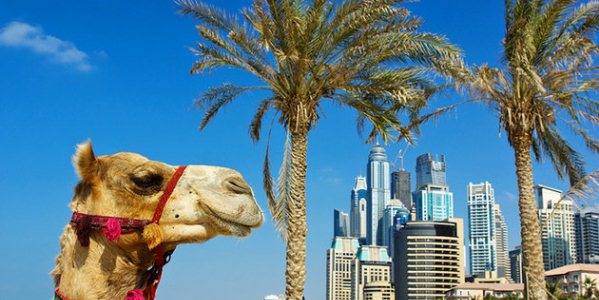 Jumeirah Beach and "The Walk", with its upscale restaurants and shops, is a beach lover's paradise. The Walk is a clean, wide, waterfront promenade in one of the latest of Dubai's developments. Jumeirah Beach is a district of Dubai located on west side of the Persian Gulf.
The nearest international airport is Dubai International Airport located 19 km away from Jumeirah.
The climate in summer between May to October is an average high of 35°C with an average low of 25°C. The winter season is November to April with an average high of 25°C and an average low of 15°C.
Things to do
Jumeirah Beach is the name given to the area of modern hotels and housing developments that grew up around the fishing village of Jumeirah along the coastal road in the area of Dubai (UAE). As the name suggests it is a large soft sandy beach used by tourists and by locals.
On Jumeirah Beach you have access to Studios, penthouses and apartments overlooking the beach and Persian Gulf. Jumeirah Beach has been designated as a park and comprises 13 hectares of public beach and recreational park with parking, shaded BBQ pits and grass areas for ball games.
Swaying palm trees provide welcome shade bringing people back time and again to this luxury beach park. Dubai (UAE) is a Muslim country the religion and culture is always respected by tourists.
Many new luxury hotels have been built in the heart of Jumeirah Beach designed for holidays, pleasure and relaxation. Whether you're after a romantic holiday, a family get away or just a short business stopover this is the perfect place for you.
Older hotels are located closer to Dubai Marina; while not as upscale as those on "The Walk" they are still clean, comfortable and much more affordable. For a family on a budget this is a good place to stay, with the evening entrainment options at the local hotels only a short taxi ride away.
At Jumeirah Beach "The Walk" area has fine dining restaurants with seemingly unending choices of eating alternatives, as you would imagine an area that plays host to locals and expats would have.
Whether you have just come off the beach or you are ready for an evening out the Jumeirah Beach restaurants recognize that food is a major part of your holiday pleasure and as such food is available to meet every dietary and budget criteria.
Resident DJ's can be found in local hotels supported by guest singers and dance troupes. With a choice of comfortable lounge style seating, selected covered or rooftop dining with moon and stars as a canopy, Jumeirah Beach can achieve the perfect entertaining experience.
Our Top Tips:
• The beach and park at The Walk
• Night markets where it seems you can purchase anything in the world.
• Dubai Private tours by bus a four wheel drive. City or desert a great way to see this rapidly changing region of the world. You will meet desert nomads and influential Sheikhs.
• Sand Boarding down sand dunes. Like snowboarding in the warmth.
• A romantic dinner for two in the desert.
• View the Burj Al Arab Hotel. Shaped like a sail boat under full sail you may struggle to get into this seven star hotel on your own. With a seven star rating it can afford to be selective but your guide will get you to the visitors centre which is mind blowing on its own.
Watching the sunset behind the sail is a worthwhile experience.
• Shopping in one of the world class air-conditioned Malls.
If you want to spoil yourself while draining your bank account; Jumeirah Beach is right for you.
(This page was viewed 159 times today and shared 1 times)