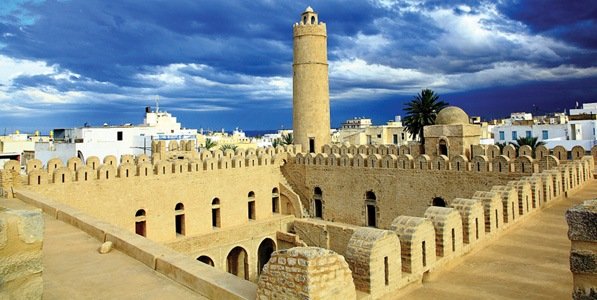 The internationally renowned city of Sousse is located on the white sand coast line of the Mediterranean Sea. The town is on the north eastern shore 140km south of Tunis, the Capital of Tunisia.
Monastir Habib Bourguiba International Airport is 20km south of Sousse with good ground transportation to your hotel or resort.
The area has a southern Mediterranean climate moderated by the desert to the south. June to September averages a high of 28⁰C with lows of 22⁰C. In the winter months this drops to a high 15⁰C and an average low of 10⁰C with Jan & Feb going down to 5⁰C.
Things To Do
The central area of Tunisia's eastern Mediterranean coast that surrounds Sousse is called Sahel. Sousse is known as "the Pearl of the Sahel" and its resorts and hotels are a popular European holiday destination.
Valued for its excellent beaches and low cost high quality resorts and service Sousse has built a reputation as an easily accessible northern European getaway. A place to relax and enjoy the beach and the watersports, a little sightseeing or a camel ride into the dessert.
Many new luxury hotels and self-contained resorts have been built, designed for your holiday pleasure and relaxation whether you want a romantic holiday, a family get away or the chance to explore this wonderful country from a home base on a stunning beach. For a family this is a great place to stay with the evening-out entertainment option within the resorts and the sand, sea and pools all day for the children.
You culinary delights are meet with recipes from round the world but Arabic and French dominate adding to the charm of the area. Whether you want quick food in a relaxed atmosphere or you are ready for an evening out within the resort, they recognize that food is a major part of your holiday pleasure. Food is available to meet every dietary and budget criteria.
For a light snack small cafés are available and the food can be complimented with bottled water, coke, coffee or mint tea.
There are a few nightclubs that cater to the European tourists although it is recommended going in organised groups for safety. Most hotels and resorts offer lounge entertainment a few nights a week and usually drinks and food may also be included.
Our Top Tips:
• The Beach – with its palm umbrellas for shade and sun loungers under the pale blue sky with the Mediterranean at your feet. This is what you came for.
• Water sports, wave runners, parasailing and of course Banana boat rides.
• Kasbah of Sousse – The Souks, the experience of the Arab culture at its best.
• Sousse Archaeological Museum – This building is an old Fort full of Byzantium history, mosaics, bowls and other local artifacts.
• Museum Dar Essid – Getting there along the cobbled streets between the high walls of the Arab style homes is half the fun. Once inside you our overwhelmed with style and colours of rooms recreating traditional Tunisian design.
• Sahara Desert by 4WD – a full day escorted trip into the desert.
• Three day Jeep Safari – drive your own jeep in a follow the leader style with pre-selected rest and sightseeing stops. You will never forget this experience.
Sousse (Tunisia), with its beach and water sports it seems that it was built just
(This page was viewed 155 times today and shared 1 times)