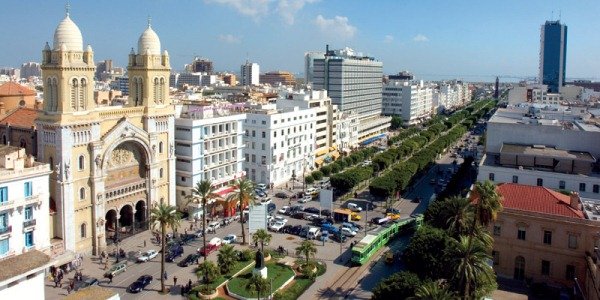 Tunis is the Capital of Tunisia. Tunisia is located on the Mediterranean Sea on the north shore of the African continent. It is a small country sandwiched between Algeria to the west and Libya to the east.   Its location on the map of the Mediterranean is south west of the toe of Italy on the north shore of the African continent.
The nearest International Airport for travelers to Tunis is the Tunis–Carthage International Airport named after the historic city of Carthage, located just east of the airport.
The weather in summer early April to end of November is 20⁰C to 33⁰C. Outside of the summer months the temperature during the night can drop to 8⁰C. During the summer months rainfall is typically low with July and August having the least rain.
Things to do
Tourism is big business in Tunis. To accommodate the tourist volume modern hotels to suit all budgets have been built. Luxury hotels and resorts and budget student accommodation is also available.
Tunisia is a Muslim country and as such Tunis offers an opportunity to observe and appreciate the friendly people who are just going about their daily lives.
Tour groups and all-inclusive holiday packages are available. This ensures that the ground transportation is safely addressed.
Independent travel is easy in Tunis by using public transport but should be used with care if leaving the city.
The Bardo Museum provides an interesting visit and the Medina is a hive of activity – although initially a little chaotic once you find your way around you will love it.
The Mosque of Kairouan was constructed (in 670 AD) and is the oldest standing minaret in the world as well as the most ancient and prestigious sanctuary in the Muslim West.
The stunning beaches on the Mediterranean have been popular with northern European tourist over the past years and are a day's excursion from Tunis.
The Tunisians will offer a warm and friendly welcome to tourists but as with any city watch out for pick-pockets and possible muggers.
Our Top Tips
• The Medina is a great place to spend an afternoon or a day wandering around in.
• The Bardo museum has the world's greatest collection of Roman Mosaics.
• The imposing Cathedral of St. Vincent de Paul, the only Catholic Church in the town of Tunis, built in 1882 by the French, is situated in the Avenue Habib Bourguiba.
• Place du Government, the sloping square at the western side of the Medina, hosts the Prime Ministry, the Finance Ministry and the Foreign Ministry.
• Take the Metro to Carthage and Sidi Bou Said. Carthage really needs a day to explore but Sidi Bou Said is a great place to spend the later part of the afternoon walking around and enjoying a sunset meal.
(This page was viewed 197 times today and shared 1 times)