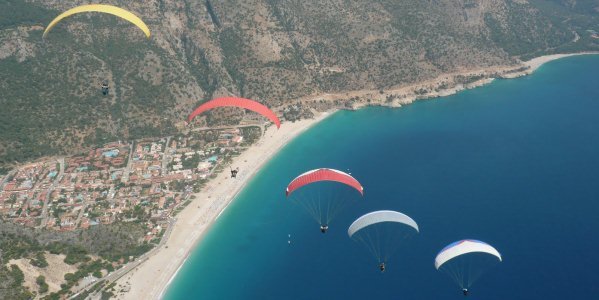 Ölüdeniz which literally means 'dead sea' in Turkish, is a tourist resort in Muğla Province of Turkey, and is situated at the far west of the Mediterranean.
The town that is only a one-hour drive from Dalaman airport was once a small sleepy village that has grown significantly in recent years.
From May to October during the peak season the area becomes very popular with British tourists.
Things To Do
One of the main attractions to Ölüdeniz is the sandy blue lagoon beach. The beach is a protected national park, therefore you have to pay to enter the beach, and access to the beach is shut by 6.00pm every evening.
During the peak season the beach gets very crowded, however, the beach has showers, toilets, cafes, sunshades and loungers that can be rented.
Next to Ölüdeniz, is Mt. Babadağ which is approximately 1900 meters high. Many companies in the area offer paragliding trips to adventurers and daredevils from the summit of the mountain. The paragliding trip back to the golden sands of Ölüdeniz takes at least 25-40 minutes depending on conditions and provides you with great memories for a lifetime.
The main season for paragliding is from April to October. If you are not feeling quite as adventurous, you can always take a trip up to the summit of the mountain which provides you with stunning views of the Blue Lagoon and the mountains covered in pine forests.
For those who love shopping the nearby market in Fethiye on a Tuesday is a must. This bustling market has everything for sale, from fake designer goods, leather products to fruits and vegetables. You can even go to the fish stall, buy some fresh fish and then ask one of the nearby restaurants to cook it for you. And don't forget to haggle at the market.
Two miles away from Ölüdeniz is Butterfly Valley, which is an 86-acre area that is surrounded by vertical rocks and is only accessible by sea. Due to the remoteness of the area, almost all of the moth and butterfly species of the coastal Mediterranean region can be found here, with the area surrounded by many different types of plants and herbs.
Plenty of boats leave Ölüdeniz to Butterfly Valley every day during peak season. Butterfly Valley has basic facilities including a restaurant, bathroom, and some very primitive accommodation.
The amazing clear waters and the underwater wildlife nearby make Ölüdeniz a perfect place for one to go scuba diving. There are now a large number of different scuba-diving sites in the area and many companies are now offering scuba-diving excursions.
These companies are able to cater for most people from complete beginners to highly experienced divers. Furthermore, for those more serious about diving, there are companies in the area offering PADI and BSAC dive courses and certification.
A lot of the excursions last a full day in which lunch and all the necessary equipment is provided for you. All you need to do is pay and turn up.
Our Top Tips:
• Paragliding – Try this just once in your lifetime, even if you're scared of heights. Go with a reputable company though as being 2000ft in the air experience is probably more important than cost
• Boat Tours – There are several tours on offer just be aware that some of the day ones can be a little exhaustive so maybe go for a half day.
• Visit the Blue Lagoon – Definitely worth a visit. You pay an entrance fee and a fee for the sun loungers but it isn't extortionate. Your hotel may also provide a shuttle service.
• Horse Riding – A pleasant couple of hours with great scenery. A nice, relaxing change.
(This page was viewed 188 times today and shared 1 times)