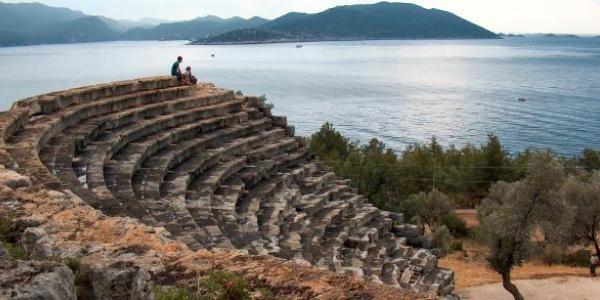 Kas (pronounced 'Kash') does not host the most unspoilt beaches in Turkey and in this sense differs from its neighbour Kalkan. However, its soothing and friendly atmosphere, popularity with divers and central location all speak loudly in favour of a trip to Kas.
You will discover boat trips, kayaking tours and many more watersports. If history is your thing, Lycian tombs overlook the town and can even be seen at night thanks to illuminations.
Things to do
Kas is the place to be for watersports and diving enthusiasts. Hundreds of diving schools and watersports operators line its modest coast. If you're thinking of diving for the first time or gaining certification then Kas Sun Diving centre is a good choice.
They can take you to local diving sites, including wreck sites, or much further afield to the Greek islands. It all depends on what you want to do. Prices begin at around 45 Euros and extend to 535 Euros for professional certification (at current prices).
Antiphellos amphitheatre is a necessary excursion if you're staying in Kas. Lying just 500m west of the town it is a well-preserved Hellenic theatre which once seated 4000 spectators. Antiphellos was a small settlement and port for Phellos, which was a more larger Lycian town to the north. It has been a popular site for tourists since the mid-19th century following its desertion earlier in that century.
If you make your way up the undulating Uzun Carsi Sokak, dating from the Roman-era and which the Turkish for good reason call Slippery Street, you will reach the so-called 'King's Tomb'.
This tomb is a pristine example of a 4th century BC Lycian sarcophagus and is mounted with two lions' heads delicately carved on the lid. So little survives of Lycian civilisation that this is a priceless jewel both for Turkish cultural heritage and for the tourists who make their way there.
If you're still not satisfied after visiting the King's Tomb you can continue up to the tombs overlooking Kas high above.
Although Kas doesn't quite have the same quality of beaches as some of its neighbours anyone staying in the town should be sure to visit Kaputas Beach. The beach is only a 20 minute drive west of Kas and there is a short hike to the beach itself from the roadside which serves to keep away some tourists and keep the beach pristine for those who press on! It is temperate and balmy all year round.
If you do decide to make the trip be sure to bring your own food, parasol and towels as there is little provision on this secluded beach itself.
After a day's hiking and travelling around the surrounding countryside you may want to unwind in central Kas. There's no better place to do so then Barcelona Bar which is popular for its friendly service, lively atmosphere and diverse mix of locals and tourists.
With good music and a decent selection of drinks and cocktails, you can't really ask for more.
Our Top Tips
• Kaputas Beach is one of the best beaches in Kas. Take a small bus from the bus depot in Kas; it will take about 20 minutes to get there.
• In order to get to Kekova Sound you can take the boat trip from Kas and see the ancient submerged city just beneath the crystal clear waters.
• Rent a private boat (with captain) and explore. You can swim with turtles, go to caves, and have amazing food while you're on the sea. This kind of boats dispose of kayaks, swim noodles, life jackets and everything else you need.
• Kalekoy Harbour is a beautiful place, with friendly locals, delicious ice cream and turtles that you can swim with.
• Hellenistic Theatre; full of history, this theatre is well preserved and has a nice view (especially at sunset).
(This page was viewed 183 times today and shared 1 times)