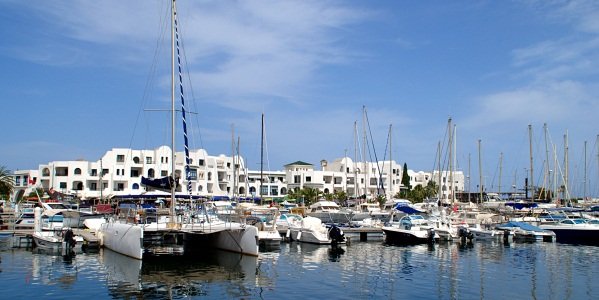 Port el Kantaoui is a tourist complex in Tunisia situated just 10 kilometres from the city of Sousse. Having been built in 1979 for the specific purpose of entertaining holidaying tourists, it is a comfortable and elegant place to unwind, with several luxury hotels on-site.
Due to its homely and accommodating atmosphere it is popular with first-time visitors and families looking for a relaxing seaside retreat.
Things to do
Kantaoui Golf Course is a must-visit for both golfing enthusiasts and beginners alike. Aside from the 18-hole golf course situated in temperate grounds, there is a fully-equipped club house with locker rooms for men and women, a bar and restaurant for a meal after the round and comprehensive equipment rental including caddies, trolleys and golf bags.
If you're bringing the kids then be sure to get them practising on the putting and pitching greens.
The vibrant Sousse Market is just a short taxi ride away. For those who want to shop with the locals rather than the tourists the Sunday market in the medina is famous for its bustling atmosphere where you can barter with shopkeepers for just about anything: from that pair of sunglasses to a camel or a caged bird.
There are tons of hidden gems to be found in these stalls and if you've got an eye for a bargain then you may walk away with something beautiful. Be prepared for the shopkeepers who have a very refined ability to bargain in multiple languages, complete with slang.
Port el Kantaoui marina is situated right at the heart of the tourist complex. With 340 berths this is a large marina full of expensive yachts and beautiful boats. Even if you don't have a boat of your own it is worth a visit with shops, boutiques, restaurants and even a modest zoo lining the front of the marina.
If you're looking for a little history and some remarkably unspoilt beaches then head to the small town of Hergla just 25 kilometres from Port el Kantaoui. Founded by the Romans, Hergla now hosts beautiful white-washed terraces and an 18th century mosque.
After viewing the town and having an inexpensive bite to eat head down to some of the most beautiful beaches in North Africa. A world away from the tourist complex at Port el Kantaoui, Hergla is an off-the- beaten-track experience.
Discover the Catacombs of the Good Shepherd in Sousse. First discovered in 1888 this labyrinth of passages and chambers were first mined between the 2nd and 4th centuries.
This huge 'maze' makes for a sprawling, foreboding and exciting adventure for all the family. It is only a short visit and will cost very little. However, do make sure before you set off that the Catacombs of the Good Shepherd are not currently under renovation!
If you are going to make your own way there instead of a packaged tour provided by your hotel in Port el Kantaoui, make sure to agree a fare with the taxi driver beforehand. Most taxi drivers are friendly and happy to help, but it is a necessary precaution to make sure you don't end up paying an unfair price for what is only a short trip.
Our Top Tips
• Nebeul Market is North Africa's largest street market where you can buy everything from chocolate to couscous and silk.
• Get out on the water in the port. Pirate-style wooden galleons can get you out to sea to fish for mullet and bream. Or you can take a glass-bottomed boat to admire the bottom of the sea.
• See the sights at Sousse. Sousse is one of Tunisia's biggest, busiest cities. Its centerpiece is the UNESCO-certified Medina – a huge 9th-century courtyard topped with minarets.
• Join a convoy of camels and ride one of these enigmatic animals on a slow, swaying trek.
• Step back through the millennia at the ancient ruins of Carthage.
(This page was viewed 238 times today and shared 1 times)