SHUKR
We opened our doors, so to speak, in 2001. Our target was the new generation of Muslims in the west whose need for stylish yet modest clothes, we recognised. In the process of providing impeccable attire and customer service to match, we have attracted non-Muslims to our store. We feel proud that Shukr has crosses religious borders and grabbed the attention of similar thinking people, who seek stylish clothes, which are modest and functional at the same time.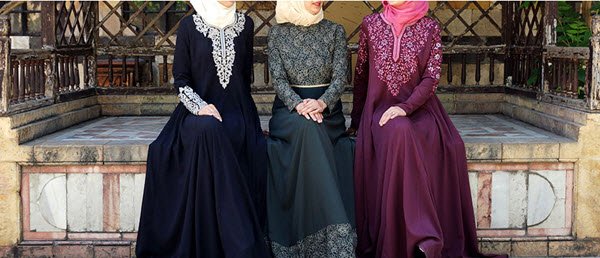 We believe in applying Islamic values in our business and incorporating them to our dealings with our customers, suppliers and employees.
We treat all our business partners including our suppliers, our employees and our customers fairly and with respect. Business prospers when all the parties are happy, and we've practiced that philosophy from the beginning.
Our staff turnover is almost non-existent and our repeat customers form the bulk of our customer base. That's not to mean that we don't value new business because we do. We however aim to hold to every customer whom we come into contact with, and if we don't we want to know why so that we can improve.
Our designers are unique and specific to our store. When you purchase an item from us, we want you to know that you'll not find your item replicated everywhere you go. We want you to stand out wherever you go and your self-confidence to soar, inspired by a creative and unique design.

Our guiding principles include:
A user friendly online shop – Here our customers can easily browse and order our products as well as lodge any queries that they may have. If you enjoy the experience of navigating through our shop, then we feel that we have succeeded.
Knowledgeable and friendly staff – Who are available to chat with you and answer any questions you may have regarding our merchandise or service. Our staff are trained to cater to all your needs regarding our products and they have been picked for their friendliness, attention to detail and ability to communicate effectively with our valued customers.
Quality products at fair prices – Guided by Islamic principles, we believe in being fair to our customers, by charging them fair prices for quality products. We know that all relationships are guided by the basic principles of fairness, respect and honesty.
Teamwork – We believe in teamwork to achieve all our objectives and mission. By engaging our suppliers and customers, we know that we are already realising our dream of being the leading online shop that all Muslims and even non-Muslims go to first for their clothing and accessory needs.
Accountability – We don't work in a vacuum and we believe everyone is accountable to somebody. Here at Shukr, we are accountable to you, our esteemed customer. We are responsible for every query that we answer, we take responsibility for every order that we ship out and we take responsibility for the information that you trust us with so as to make your shopping successful. Thank you for believing is us.
(This page was viewed 503 times today and shared 1 times)