Sawm :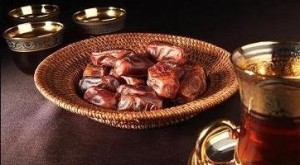 Sawm, fasting during the holy month of Ramadan, is the fourth pillar of Islam.
Ordained in the Holy Qur'an, the fast is an act of deep personal worship in which Muslims seek a richer perception of Allah. Fasting is also an exercise in self-control whereby one's sensitivity is heightened to the sufferings of the poor.
Ramadan, the month during which the Holy Qur'an was revealed to the Prophet Muhammad, begins with the sighting of the new moon, after which abstention from eating, drinking and other sensual pleasures is obligatory from dawn to sunset.
Ramadan is also a joyful month. Muslims break their fast at sunset with a special meal, iftar, perform additional nocturnal worship, tarawih, after evening prayer; and throng the streets in moods that are festive and communal.
The end of Ramadan is observed by three days of celebration called Eid Al-Fitr, the feast of the breaking of the fast. Customarily, it is a time for family reunion and the favoured holiday for children who receive new clothing and gifts
(This page was viewed 169 times today and shared 1 times)